News
Motor State Adds Superior Fuel Cells to Line Card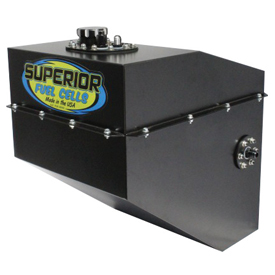 Motor State Distributing has added Superior Fuel Cells to its expanding vendor product line.
Superior Fuel Cells are specialized in cutting-edge technology and designed to deliver fuel delivery for Dirt Late Model and Dirt Modified racing classes.
Superior Fuel Cells are constructed from 20-gauge steel, laser cut and CNC formed. The polyethylene bladder is cross-linked for greater strength. Fuel spillage and evaporation is greatly reduced with a double sealed billet fill cap with flapper gasket assembly. Cells come with -10AN fuel pickup, -8AN fuel return, -6AN vent with roll-over valve and fuel dipstick, according to Superior Fuel Cells.
All cells exceed the SFI 28.3 spec, according to the company. Only the cells that carry the label are certified. Available in 16, 22, 26 and 30-gallon cells, according to the company.
For more information call Motor State Distributing at 800-772-2678, or visit motorstate.com.