News
Motor State Adds LEED Brakes to Line Card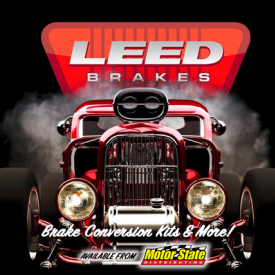 Motor State Distributing has added LEED Brakes to its expanding vendor product line.
Drum brakes were standard on most vehicles for years, even into the 1990's on some trucks and SUVs. However, they don't compare to disc brakes for stopping power and ease of maintenance. For this reason, drum-to-disc conversions are becoming increasingly popular on older vehicles.
LEED Brakes provides a range of components and kits to improve the braking power and safety of a variety of classic cars, trucks, and Jeeps. Its offerings range from individual brackets, spindles, and calipers to complete drum-to-disc conversion kits.
Motor State Distributing offers the full line of LEED Brakes components and kits.