News
Motor State Adds LifeLine Fire to Product Line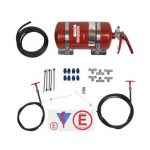 Motor State Distributing has added LifeLine Fire to its vendor product line.
Founded in 1980, LifeLine Fire manufactures on-board fire-suppression industry, which have been used everywhere from F1 and IndyCar to weekend racers, and are available with electric, automatic or pull-cable activation.
Motor State Distributing offers the full line of LifeLine Fire fire-suppression systems and components.