News
The Most American-Made Vehicle is Jeep; Followed by Three Honda Models
Trade tensions and tariff threats have garnered plenty of headlines in 2019. The breakneck pace at which such threats are issued and rescinded is enough to give anyone whiplash. While it's become business as usual for those keeping up with the news, the repercussions to consumers could run deep if some of the threats become reality, according to Cars.com.
For now, these trade tensions have had minimal effect on Cars.com's American-Made Index, an analysis that determines which cars are the most American by examining assembly location, parts sourcing, factory employment relative to sales, engine sourcing and transmission sourcing. Cars.com analyzed more than 100 U.S.-built vehicles for this year's index, which marks its 14th year.
For the second year in a row, the Jeep Cherokee, which is built in Belvidere, Illinois, topped the American-Made Index. While Jeep is an American brand with a rich history, it's also owned by Italy's Fiat Chrysler Automobiles.
Japanese automaker Honda nabbed the next three spots with its Odyssey minivan in second place, the Ridgeline pickup truck in third and the all-new Passport SUV taking fourth. These three vehicles are built in Lincoln, Alabama, and the Passport's addition to Honda's lineup and to this index-"as well as other Honda and Acura vehicles built in the U.S.-"helped the automaker to dominate the 2019 American-Made Index.
The first U.S.-based automaker, GM, ranks No. 5 on the index with the Chevrolet Corvette, built in Bowling Green, Kentucky. For the first time, Cars.com has expanded the index to 15 models.
The 2019 American-Made Index differs greatly from people's perception of which cars are built in the U.S. Cars.com surveyed more than 1,000 motorists in June, and respondents think the following cars are the most American: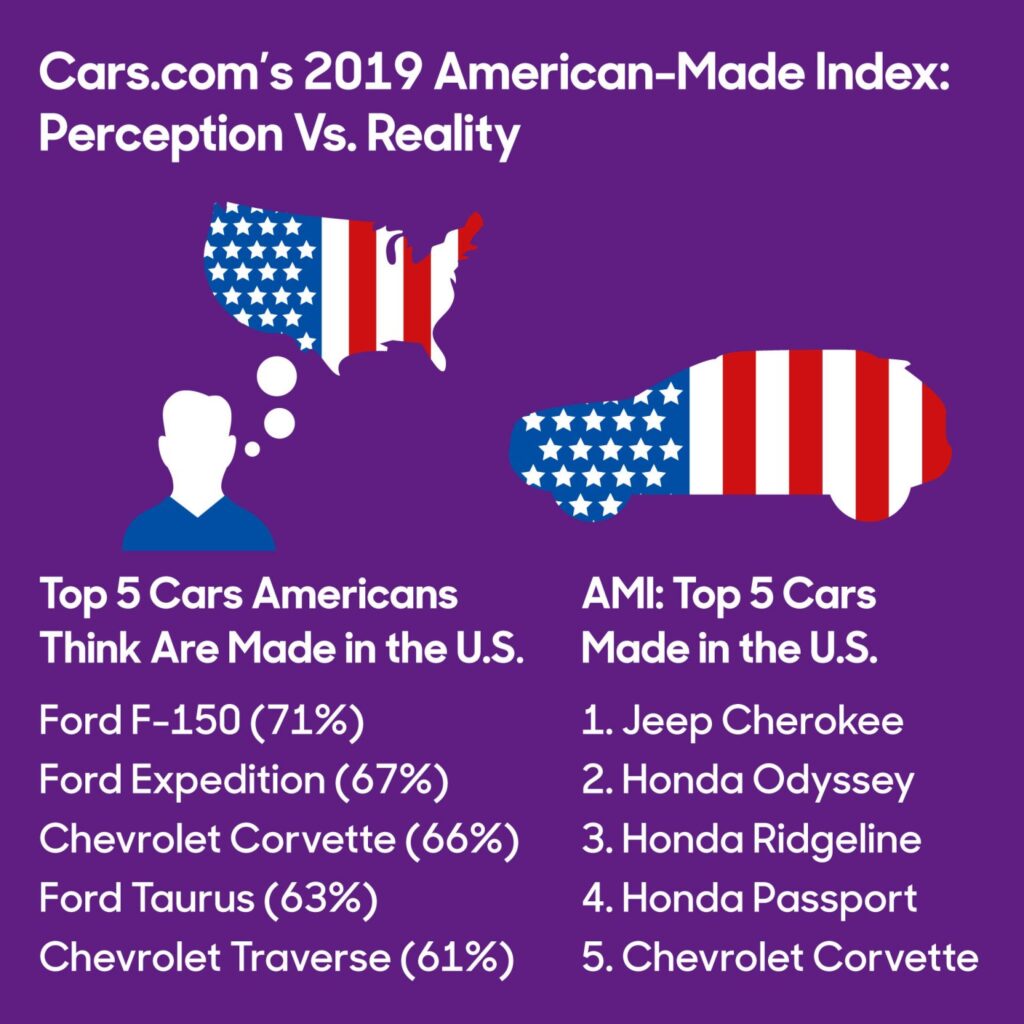 ---
Roughly two-thirds of respondents indicated they want to buy a car that contributes substantially to the U.S. economy, but the survey results show a generational divide on the issue. Sixty-one percent of Millennial and older Gen Z respondents-"those age 18-34-"said it matters at least somewhat that the car they buy contributes substantially to the economy. That sentiment is significantly stronger with older generations, as 71 percent of respondents age 35-54 and 66 percent of respondents age 55 and older indicated the same desire.
Automakers build passenger vehicles in 14 U.S. states. A Cars.com analysis of Q1 2019 production data from Automotive News shows that Michigan leads the pack in terms of share: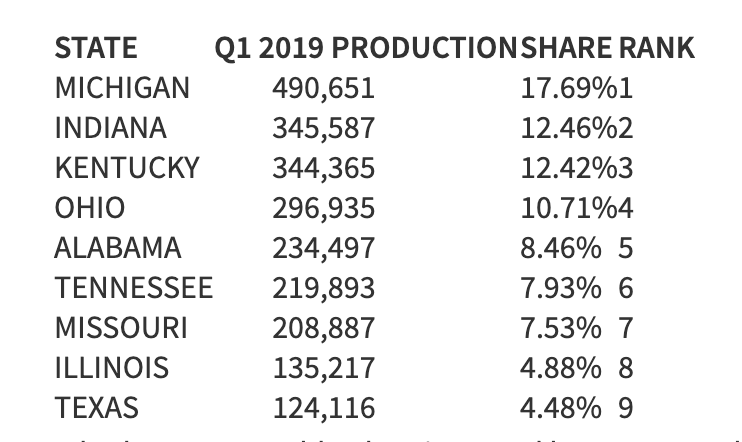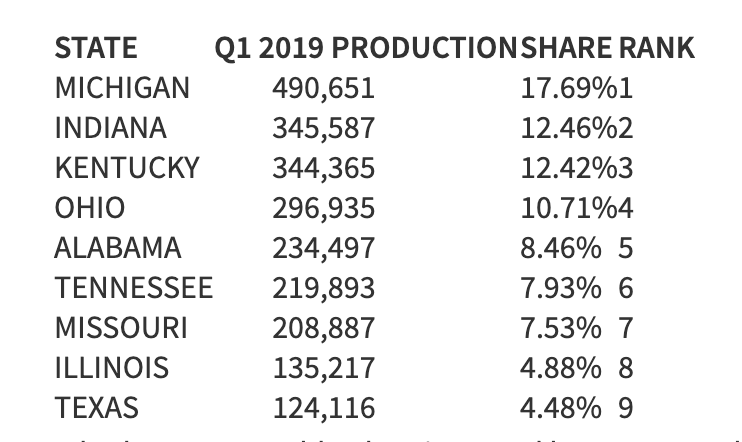 Chart provided by Cars.com.
---
Whether an assembly plant is owned by an automaker based in the U.S. or one based abroad, there's no doubt of the auto industry's impact on the U.S. economy.
The American-Made Index looks beyond a brand's origins to consider the larger impact of vehicles built here in the U.S. regardless of which automaker builds them.