News
More Aftermarket Sponsors Join 'Horsepower Wars'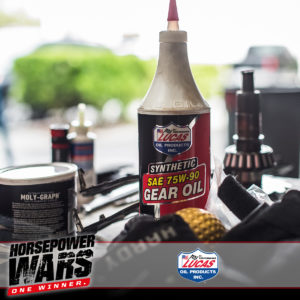 Aftermarket suppliers continue to line up in support of the second season of Horsepower Wars.
Lucas Oil Products, ProCharger and Toyo Tires have all announced partnerships with the automotive series. Horsepower Wars features a variety of challenges that focus on specific areas of aftermarket performance and offer unique obstacles, such as the $10K Drag Shootout, Pony Wars, LS vs. Coyote Shootout, Junkyard Challenge and more, according to a press release.
LUCAS OIL PRODUCTS
Tom Bogner, director of motorsports at Lucas Oil Products, has worked with the Power Automedia team in the past, and with so many prominent companies and race teams involved-including Summit Racing (a distributor of Lucas Oil Products)-it made sense for Lucas to get in on the action, too.
"This is a great way to be involved in a very interesting build with three separate teams, all having great followings in the very popular Ford Mustang, Dodge Challenger and Chevy Camaro American muscle market," said Bogner, who worked closely with all of the teams as they spec'd out their builds.
"We had a great time interacting with Ron Mowen of Vengeance Racing and Chad Reynolds as they conducted their builds," Bogner continued. "And how can you not enjoy time with Dennis Pittsenbarger and the bickering?"
Lucas Oil manufactures additives for engine assembly during the build phase, as well as break-in oils, synthetic racing oils and oils for standard passenger cars.
"Having a 1,000-hp street-car myself, I can relate to the challenges and really look forward to continued support of Horsepower Wars," Bogner said. "As the days of a simple oil change are long gone, Lucas Oil understands that it's important to have peace of mind when it comes to choosing the right oils to support engines that make big power-just like the teams involved in Horsepower Wars."
PROCHARGER
"ProCharger superchargers deliver maximum horsepower, and we're proud of being a sponsor of the Horsepower Wars series, which is geared toward pushing the potential horsepower limits of modern-day engines and muscle cars," said David Turner, ProCharger's marketing director.
In the Pony Wars Shootout, the 2019 Mustang, Challenger and Camaro teams chose ProCharger D-1X and P-1X Stage II supercharger systems in an effort to make more than 800 rear-wheel horsepower.
ProCharger manufactures supercharger kits for street cars, trucks, SUVs, boats, race cars and more, and can create horsepower gains up to 40-80% over stock, according to the company.
TOYO TIRES
"We are proud to be a partner of Horsepower Wars," said Marc Sanzenbacher, senior manager of motorsports at Toyo Tire U.S.A. Corp. "Pony Wars and the new Truck Challenge show provides us a great opportunity to showcase our Proxes RR and Proxes R888R tires for cars and Open Country tires for trucks. From the track to the dirt, we can't wait to watch the competitors prove our performance, consistency and durability."
The Toyo Proxes line delivers added performance for the modern American muscle cars built by Chevrolet, Ford and Dodge, according to the company. For trucks and SUVs, the Toyo Open Country line offers a wide range of products and fitments spanning from rugged to refined for off-road to on-highway driving.
"These shows demonstrate how a vehicle can be made even better with aftermarket upgrades and a premium set of tires," Sanzenbacher added.