News
Mooneyes Documentary in Development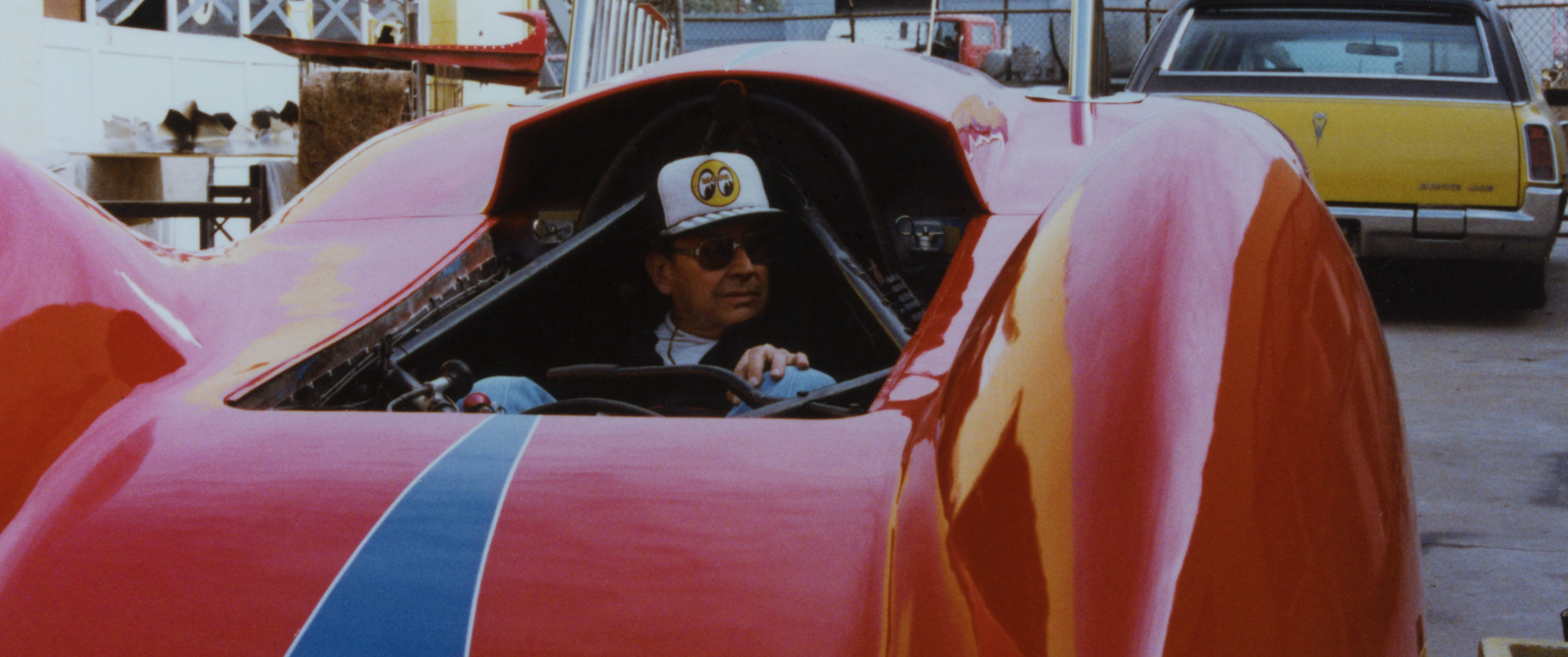 If you look at the roots of the southern California racing scene at the dry salt lakes, you'll find Dean Moon's name and efforts etched in the salt.
Moon was heavily involved in hot rods and racing as early as his high school days, and later started the Mooneyes brand of racing equipment. Now after his death, Shige Suganuma and Chico Kodama carry on the "google eyes" tradition.
Moon grew up in Southern California in the 1940s and sold a fuel distribution block that he made in his high school shop class. After serving in the Korean War, Moon opened up the Mooneyes speed shop and sold an often-imitated gas pedal in the shape of a barefoot. He also crafted a small fuel tank to allow dragsters to clock off their quarter-mile runs without too much weight from the fuel. Later, Moon created a full-face wheel cover for the salt racers to decrease drag. These wheel covers are still referred to as "Moon discs."
Moon sponsored drag racers that sported his "googling eyes" decal. After his death, Suganuma and Kodama came forward and bought the company in 1992 to carry on the tradition.
Since acquiring the company in 1992, Suganuma and Kodama, two Japanese hot-rodders, have built Mooneyes into an international brand, honoring legendary founder Dean Moon's legacy and celebrating car and motorcycle culture.
Now, filmmaker Ming Lai is currently finishing up a documentary that tells the story of the business and the men behind it. Called "Craft of Speed," Lai is seeking crowdfunding support to finish the film.
According to Lai, the documentary will highlight Suganuma and Kodama's roles as Asian-Asian American pioneers in the industry and how they battled against racism and xenophobia and to ultimately create a global following. The film will also show Suganuma's attempts to grow the company despite declining interest in hot rods and Kodama handcrafting a new modified street rod to try to break his second land speed record at Bonneville Salt Flats.
Filming began in 2019 and Lai said he hopes to have the 90-minute film ready by July 2022. With crowdfunding support, Lai says, he will obtain enough funds to finish the film.
"I was introduced to Mooneyes by my father-in-law, who used to own a '32 Ford Roadster in bright yellow and equipped with Mooneyes speed parts. Later, I had the honor of meeting Chico Kodama, the president of Mooneyes USA, and I was inspired by his and Mooneyes owner Shige Suganuma's incredible story," Lai said. "With their full support, my team and I are making a feature documentary about their lives and work."
"The film is an epic origin story of legendary Mooneyes founder Dean Moon and his worthy successors, Suganuma and Kodama. It spans from Moon's creation of Mooneyes as an iconic American speed equipment and custom accessories company to Suganuma and Kodama's growth of it into a coveted international brand," Lai continued. "We're deeply honored to be able to tell this important story to inspire new generations of hot rodders."
Click here for more information on the documentary's crowdfunding efforts.