News
Monster Energy-Supported NASCAR Documentary Acquired by 1091 Media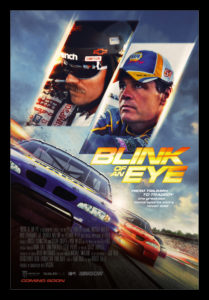 As a longtime sponsor of racing, Monster Energy has announced the acquisition of the NASCAR documentary Blink of An Eye by global commercial distribution platform 1091 Media.
Based on the true story of NASCAR icons Michael Waltrip and Dale Earnhardt Sr., the documentary is produced and directed by multi Emmy-winning filmmaker Paul Taublieb, known for Unchained: The Untold Story of Freestyle Motocross, according to a press release. Also serving as producers are Mitch Covington, Monster Energy vice president of sports marketing, who discovered the true story and brought it to Taublieb; Susan Cooper and Pam Miller; and NASCAR's Steve Phelps, serving as an executive producer.
Blink of An Eye was produced by Taublieb Films with support from Monster Energy and in association with NASCAR. The film, which premiered last month at the NASCAR Hall of Fame Theater in Charlotte, North Carolina, is expected to be shown at major film festivals and select theatres in New York and Los Angeles this fall, and will be available On Demand.
Based on the New York Times bestselling book, Blink of An Eye focuses on Waltrip and his star-crossed friendship with the iconic Earnhardt.
Over the course of 462 races, Waltrip failed to notch a single win. He was on the longest losing streak in NASCAR history when he joined Earnhardt's race team for the 2001 Daytona 500. On the last lap of the Great American Race, Waltrip held the lead with Dale Earnhardt Jr. in second and Earnhardt Sr. in third.
Instead of making his trademark, ruthless charge to the front, Earnhardt Sr. blocked the field of 40 cars to allow his friend to take his first checkered flag. As fate would have it, Waltrip never had the opportunity to celebrate with Earnhardt Sr., as the legend was killed on that last lap in what was initially thought to be a minor crash.
Later, Waltrip would pay homage to Earnhardt on his return to Daytona in dramatic, unexpected fashion.
Brought to life in director Taublieb's signature storytelling style, the film features interviews with Waltrip and Earnhardt Jr. along with Ty Norris, the former executive vice president of motorsports for Dale Earnhardt Inc., and NASCAR Hall of Famers Richard Petty and Richard Childress. It also includes a special audio cameo by country music star Trace Adkins.
"Blink of an Eye touches a much wider audience than NASCAR fans-it is a story of perseverance and friendship that anyone can relate to," said Danny Grant, senior vice president of film and strategic partnerships. "Paul Taublieb does a fantastic, cinematic job with this long untold story and we are excited to partner with Taublieb Films and Monster Energy, along with the support of NASCAR, in bringing this film to theaters and homes nationwide."
Blink of an Eye has also been acquired to be developed into a dramatic feature film by Hollywood producer Roger Birnbaum, with whom Taublieb produced the hit film The Vow in 2014, according to the release.