News
MOMO Partners With Hot Wheels for Limited Edition Steering Wheel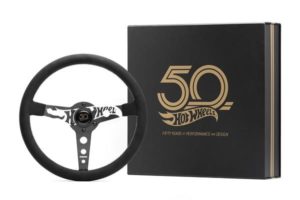 MOMO will offer a special steering wheel celebrating Hot Wheels' 50th anniversary.
The steering wheel is designed as an exclusive collaboration between MOMO and Hot Wheels for use on Hot Wheels life-size fleet of vehicles.
The new steering wheel is based on the classic MOMO Prototipo design, the MOMO X Hot Wheels steering wheel is wrapped in genuine Alcantara, which is cross stitched by hand in Italy using Hot Wheels 50th Anniversary gold thread. The official Hot Wheels logo is laser-etched onto the spokes while the horn button features the Hot Wheels 50th Anniversary logo. The specialty product is packaged in a commemorative box to enhance its collectability, according to the company.
MOMO worked closely with Hot Wheels lead designers throughout the year to develop a matching steering wheel and shift knob for life-size Hot Wheels cars such as Bone Shaker and Rip Rod. The result was 50 serialized steering wheels and shift knobs, which were given to Mattel to outfit the Hot Wheels fleet both present and future.
The MOMO X Hot Wheels steering wheel and shift knob is being showcased during the SEMA  Show on a unique center-steer Porsche Boxman, conceived and engineered by Bisi Ezirioha from Bisimoto Engineering.
"With MOMO recently celebrating its 50th Anniversary we fully understand the importance of such a milestone," said Henrique Cisneros, chairman of MW Co. "We're incredibly proud to help such an iconic brand as Hot Wheels commemorate not only 50 years of history but 50 years of inspiring fans of all ages."