News
Mobile Solutions to Present Virtual Training at SEMA360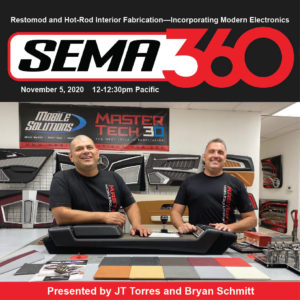 Mobile Solutions will be participating in the education sessions of the upcoming SEMA360 virtual event with a 30-minute training session titled "Restomod and Hot-Rod Interior Fabrication – Incorporating Modern Electronics," the company announced.
Mobile Solutions president and founder Bryan Schmitt, along with Juan "JT" Torres of Automotive Entertainment HB in Huntington Beach, California, will take virtual attendees through many time-saving and innovative techniques for designing and fabricating automotive interiors. They will also answer questions during the session and immediately afterward. The training will take place on Thur., Nov. 5, from 12-12:30 p.m. PT.
"We were very pleased that SEMA reached out to request that we do this session virtually," said Schmitt. "We were originally scheduled to do an in-person session at this year's SEMA Show, but with the cancelation of that event, it was great that the SEMA Education folks came up with an alternative to offer this virtually for SEMA360."
"With all the webinars going on, people may have become fatigued at the traditional PowerPoint style presentations. Our training session is hands-on and we're building right in front of the camera so it's the real deal," added JT Torres.
Training Highlights
How to design effectively – where to start
Tools to improve efficiency and outcomes
Drawing the concept with real time examples (package tray, door panel, console, etc.)
Identify and specify the materials and colors
Building and duplicating shapes with layer and dimension
Consistent gaps for perfect fit on final finishes – paint, vinyl, leather, carpet, etc.
Design enhancements with embossing, aluminum inserts and more
Serviceability and fastening techniques
Safety observations when fabricating panels & parts
And much, much more!
Who Should Attend?
Fabricators of hot-rod and restomod-style builds
Cut-and-sew interior professionals
12-volt fabricators and car audio technicians
Anyone interested in expanding their horizons of integrated interior design
Automotive aftermarket professionals interested in attending the training session must register for the SEMA360 event by visiting www.sema360.com. While registering, you will be able to select the education sessions in which you're interested.