News
MiTek Promotes Nelson to VP of OEM Operations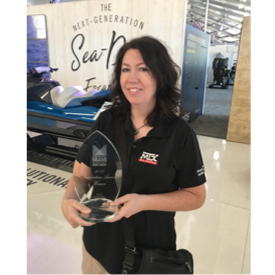 MiTek Electronics and Communications has promoted Cyndie Nelson to vice president of OEM operations. In this new role, Nelson will lead the development and implementation of strategic planning for MiTek's OEM Innovations Group, shaping the group's competitive success as a brand partner and tier one supplier to new and existing automotive, marine, and powersports customers, according to the company.
"MiTek has seen substantial growth in our OEM division over the last several years in categories that we had not previously serviced and most of the credit for that goes to Cyndie," said John Ivey, MiTek president and CEO. "Since joining our team Cyndie has brought an insider's perspective on OEM operations and has shown a remarkable ability to build and nurture relationships, sometimes over many years, and to turn those into great opportunities. Cyndie has always been and will continue to be a valuable part of our organization and her new position reflects our commitment to our people and our shared successes."
Nelson has been with MiTek for 14 years, holding several key positions with MTX Audio and AtlasIED. She was instrumental in establishing MiTek's OEM team, bringing new process vision from the automotive industry to serve customers such as General Motors, Ford, and Harley-Davidson, according to MiTek.
Nelson most recently served as director of OEM sales. MiTek's 2018 OEM sales are projected to be up 220 percent since 2016, according to the company.
"I'm incredibly honored to work with such a great team at MiTek on these amazing projects. We have a tremendous amount of talent at MiTek," Nelson said. "The two most important things to me are our customers and our people. It's my goal to bring new opportunities and incredible product experiences to both."
Nelson started her career in the automotive aftermarket as a machinist, holding certificates in cylinder head porting for racing and high performance engine applications. After graduating college, she worked as a technical editor for McMullen Argus Publishing, with her  byline appearing in numerous magazines, including Popular Hot Rodding, Off-Road Magazine, Motor Trend, and Hot Bike. Soon after she transitioned her career into aftermarket parts manufacturing.
Nelson will be in MiTek's booth (No. 33301) at the Oct. 30-Nov. 2 SEMA Show in Las Vegas.