News
Milton Industries Acquires Steck Manufacturing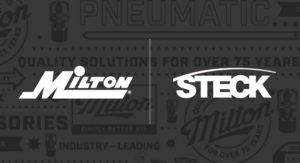 Milton Industries has acquired Steck Manufacturing Company, a developer and manufacturer of specialty tools for the automotive aftermarket, the company announced.
Steck, based in Dayton, Ohio, provides specialty tools to automotive repair, body shop, heavy-duty truck, lockout and towing markets, the company said, and is Milton's fifth vehicle aftermarket-related acquisition.
"This expands Milton's reach into Steck's automotive and truck specialty tool offerings and market space," said Greg Carlson, CEO of Milton Industries. "We will use our design, manufacturing and marketing expertise to broaden both brands' market share. Our newly combined teams, knowledge and distribution channels will be a catalyst for continued growth."
"The folks at Milton have been great," said Chris Brill, president of Steck Manufacturing Company. "We share the same values and work ethic. We value our employees, our customers and the integrity of the product. So, I couldn't have asked for a better company to work with."
"The acquisition will expand our product line into new industries and get our tools into the hands of more customers," Brill said. "And our employees are joining a much larger company, so they get the benefits and security that come along with a company of more than 200 employees, as opposed to a company of 13 employees."
Carlson will continue as CEO of Milton Industries. Brill will continue with Steck for a 90-day transition period. Milton's core management team partnered with its financial sponsor, LLCP (Levine Leichtman Capital Partners) for the acquisition.