News
The Million Stitch Rolls-Royce Phantom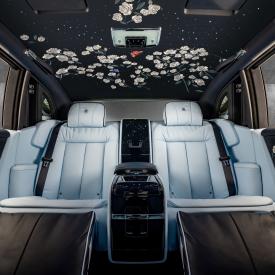 The Rolls-Royce Bespoke Collective has unveiled a new Phantom, commissioned by a Swedish entrepreneur, that features a 1 million-stitch floral scene embroidered along the ceiling and door panels.
The Rose Garden at the Home of Rolls-Royce in Goodwood, West Sussex, served as the primary point of inspiration for Ieuan Hatherall, a Bespoke Designer for Rolls-Royce. This Rose Garden is the only place in the world that the Phantom Rose is grown. Bred exclusively for Rolls-Royce by British Rose Breeder Philip Harkness of Harkness Roses, the Phantom Rose grows in the courtyard of the marque's Global Centre of Luxury Manufacturing Excellence at Goodwood in West Sussex, England.
The Peacock Blue exterior of the Rose Phantom is punctuated with a Charles Blue twinned-coachline that intertwines organically like the stem of a rose, the company says, combining to introduce the rose motif, an indication of both the colors and the treatment within. The wheels are embellished with a twinned pinstripe, also in Charles Blue.
Inside, the embroidery is featured on the inside of the rear doors. Additionally, the Phantom Rose is illustrated in varying stages of maturity, from bud to full bloom, in an asymmetrical design that appears to grow across the roof lining, from the rear of the car. The marque's starlight headliner illuminates the scene as the roses are interspersed with individually placed fibre-optic lights.