News
Mike Mittler Inducted into Ozark Area Racers Hall of Fame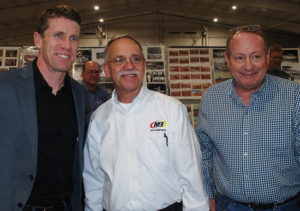 Mittler Bros. President Mike Mittler was inducted into the Ozark Area Racers Association Hall of Fame on Saturday, January 6th, at a ceremony held in Springfield, Missouri.
The honor was made extra special by being in the same class as longtime friends Kenny Schrader and Carl Edwards, the latter of whom got his professional NASCAR career started by driving the MB Motorsports truck in the Camping World Truck Series in the early 2000s.
Said Mike Mittler, "This is a tremendous honor and it wouldn't have happened without all of the support and hard work over the years from my friends, family, employees, customers and fellow competitors."
The full list of inductees is: Bob Aton, Jim Campbell, Chris Davis, Carl Edwards, Mike Mittler, Kenny Schrader, Lonnie Snodgrass, James Taylor, Dan Williams and the late Daryl Williams.