News
MidwayPlus Partners with SpeedFactory Racing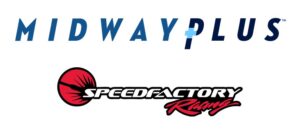 SpeedFactory Racing, a provider of street performance and racing products, has partnered with MidwayPlus to use its online storefront software, the company announced.
"MidwayPlus is helping us to improve our order response times, allowing us to streamline our online wholesale ordering process with detailed, industry specific product listings, automatic alerts for pre-ordering, back ordering and communicating lead times," said Matthew Hurlbut, SpeedFactory Racing. "We look forward to further reaching new markets and expanding SpeedFactory's global online B2B presence with the help of MidwayPlus."
Created and designed by automotive and racing industry veterans, the MidwayPlus software platform allows manufacturers to sell products to aftermarket resellers within a secure transaction platform, the company said.
"It doesn't get any better than SpeedFactory Racing when it comes to Honda Outlaw Drag Racing," said Brian Lounsberry, MidwayPlus CEO. "Having their race-winning products on our software platform is great for MidwayPlus and SpeedFactory. Our technology is built for brands like SpeedFactory Racing that need scalable global access for their quickly growing B2B business."