News
Mid-Ohio School and Maria's Message Offer Safe Driving Days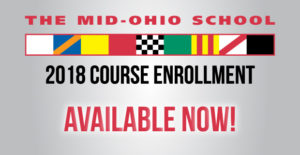 The Mid-Ohio School takes its Honda Teen Defensive Driving Program curriculum and Honda Civic Skid Car to Columbus, Ohio on Saturday, June 30, for a Maria's Message Safe Driving Day.
Maria's Message…
On September 17, 2013, 10TV sports anchor Dom Tiberi and his family lost their 21-year-old daughter, Maria, in a distracted driving accident. Since then, the Tiberis and their 10TV family have made it their mission to teach young drivers about the dangers of distracted driving and the affect it can have on their life. This mission includes public service announcements, Maria's Message presentations at area high schools, and free defensive driving courses for teens.
"This year, as we observe the fifth anniversary of the distracted driving death of Maria Tiberi, we also mark year five of our partnership with The Mid-Ohio School in our Maria's Message Safe Driving Days campaign," said Angela Pace, 10TV's Director of Community Affairs. "We're convinced that these free defensive driving classes are making a difference. We hear back from parents and students about how effective the drills are. And they love the Mid-Ohio instructors -¦ and so do I!"
Three sessions involving about 90 students who have pre-registered for class will be presented by The Mid-Ohio School on Saturday. The program will be at Thirty-One Gifts headquarters (3425 Morse Crossing, Columbus, OH 43219) for those interested in watching the training in progress. Additional classes are scheduled for Wednesday, July 25, and Saturday, August 25. To learn more about the future dates, please visit 10TV.com.
"We are proud to partner with WBNS-10TV, Dom and the Tiberi family for the fifth year in keeping Maria's Message alive," said Craig Rust, president of Mid-Ohio Sports Car Course and The Mid-Ohio School. "We hope to make a difference by raising awareness to the dangers of bad driving habits and reducing the amount of distracted driving that is happening. We know this partnership is saving the lives of teenage drivers."
This program teaches techniques not found in typical drivers' education classrooms. Instructors from The Mid-Ohio School put students behind the wheel to learn skills they will use throughout their driving lives. Students will practice emergency lane change, wet pavement braking, and skid car drills.
In its 25th anniversary season of operation, The Mid-Ohio School has an official vehicle partnership with American Honda Motor Co., Inc. which makes up The Mid-Ohio School's fleet of Acura ILXs, Honda Civics, and Honda S2000s. Two of the Honda Civics are also equipped with skid systems to practice car control techniques for oversteer and understeer situations often encountered in inclement weather conditions.
Additonal sponsors of The Mid-Ohio School include Coca-Cola, Comfort Inn, Cooper Tires, Honda Performance Development, Malco, Sunoco, Quality Inn & Suites, Summit Racing, and Total Oil.
About The Mid-Ohio School
Based at Mid-Ohio Sports Car Course, in Lexington, Ohio, The Mid-Ohio School provides professional driving and riding instruction to drivers and motorcyclists of all skill levels. The school's 16 automobile courses include the renowned Honda Teen Defensive Driving program, as well as Acura High Performance and Racing programs. The motorcycle side features two Performance Track Riding formats. Students enjoy classroom sessions, skill drills, expert private instruction and lapping on the same track that challenges the world's top racers. The school is a past recipient of the prestigious Ohio State Highway Patrol's Partners for Safety Award and partners with Maria's Message each year to teach young drivers about the dangers of distracted driving. In 25 seasons, The Mid-Ohio School boasts 71,855 all-time graduates, including almost 21,300 teenage drivers and 18,012 motorcyclists.
For more information, visit midohioschool.com, 'like' its Facebook page @TheMidOhioSchool or follow updates on Twitter @MidOhioSchool.