News
Mickey Thompson Backs a Fan Favorite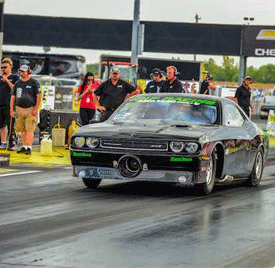 Mickey Thompson Tires & Wheels is the official sponsor of the Street Outlaw drag racing category for the 2019 National Muscle Car Association (NMCA) season.
Mixing big power with small tires, Street Outlaw is NMCA's 275 radial championship category. Running at every event on the schedule, it attracts premier competitors battling for a prestigious NMCA championship.
Operating in small tire category with its ET Street Radial Pro line, Mickey Thompson has supported small-tire radial racing since its inception.
"The small-tire radial drag race world has exploded over the past decade," said Ken Warner, Mickey Thompson vice president of sales. "Mickey Thompson has been innovating drag radials for 20 years, but our ET Street Radial Pro tire helped bring small tire racing to where it is now, one of the most popular forms of racing out there. We are excited to sponsor the Street Outlaw category and continue our partnership with NMCA in to the next season."
Mickey Thompson's ET Street Radial Pro is a purpose-built race tire for classes requiring P275/60R15 or P315/60R15 tires built from size-specific materials.
"Mickey Thompson has stepped up to the plate to sponsor Street Outlaw, NMCA's premier 275 radial class," said Steve Wolcott, NMCA president & CEO. "This big-power, small-tire category features turbos, blowers andnitrous all battling for 275 supremacy. Intense radial racing is a fan favorite."
Mickey Thompson is posting valuable racer contingencies on Mickey Thompson tires in all NMCA championship classes. It will also continue to offer onsite trackside support at most events, as well as contingency awards to drivers competing in Pro, Sportsman and various special event classes, according to the company.
The 2019 NMCA season starts March 7 with the Muscle Car Mayhem event in Bradenton, Florida. Click for the complete 2019 NMCA schedule.