News
Michelin North America Appoints New Director of Motorsports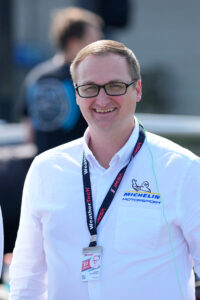 Michelin North America has named Jason Anzalone director of motorsports, effective Aug. 1, the company announced. Anzalone succeeds Tony Ménard, who is returning to Michelin headquarters in France after three years in North America.
"Tony has been instrumental to our motorsports success in North America, nurturing the heritage of Michelin and BFGoodrich racing through iconic race victories and technical leadership in endurance and desert racing," said Matthieu Bonardel, global director for Michelin Group's motorsports business entity. "We appreciate his leadership and dedication, steering the motorsports team through tough pandemic periods by not only persevering, but growing the business with new partnerships. The North American motorsports team is stronger than ever, with many opportunities to accelerate innovation and serve the company's ambition."
Anzalone has served in several positions during his 11-year Michelin career, most recently as a strategic account director for Discount Tire and Tire Rack. Anzalone started his career in the automotive industry as a mechanic, working predominantly with Mercedes-Benz and Ferrari, and has worked closely with the motorsport teams since May to help prepare for his new role, the company said.
Ménard helped advance Michelin's involvement in IMSA sports-car racing, including the new Porsche Carrera Cup partnership. In his three years, Michelin Motorsports was able to support all IMSA races through the pandemic with great success.
Under Ménard's leadership, BFGoodrich achieved the 100th overall SCORE Baja victory and introduced the first 18-inch Baja T/A KR3 for Trophy Truck and Unlimited Truck classes. His tenure also includes three Baja 500 wins, two Baja 1000 wins, three Mint 400 wins, and a victory at King of Hammers. Lastly, he helped continue the successful partnership of the Mazda MX-5 Cup, the company said.
"I want to thank all the teams, partners, officials and fans who have made our relationships so successful and are essential to the successes of our brands," Ménard said. "I look forward to new innovations through Jason's leadership, as well as the continued dedication of the Michelin Motorsports North America staff and volunteers who help our product perform at its very best."