News
MGP Caliper Covers Celebrates 10th Anniversary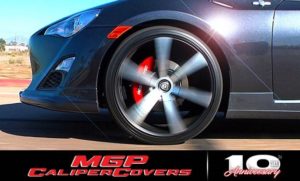 MGP Caliper Covers celebrates its 10th anniversary this year. The company manufactures customizable aluminum caliper covers for all vehicle makes and models from the last 20 years and can create options for older vehicles.
MGP products-manufactured at the company's San Diego facility-disguise the brake mechanism visible behind increasingly popular rims with open wheel designs and can be installed in just an hour, according to the company. The company offers licensed branded covers together with a patented fastening system designed specifically for each vehicle's unique manufacturer's caliper.
Custom options include factory paint-matching to the vehicle paint color, personalized engravings and engravings from MGP's licensed partners.
MGP sold just 200 units in its first year. A decade later, more than 250,000 vehicles have been fitted with the company's caliper covers.
"Over our 10 years in business, caliper covers have been well received as an exterior accessory and we've proven that there's demand and huge opportunity for growth," said Mike Barland, MGP owner. "On their own, our custom caliper covers are a uniquely affordable and accessible upgrade for personalizing a car's appearance, or they can be the final aspect to completing the overall look when vehicle owners upgrade their rims to enhance the performance and look of their wheels. There are 100 million cars in the U.S. with open-wheel designs, and that number increases every year."