News
Meyer Distributing Names Quarterly Sales Performance Award Winner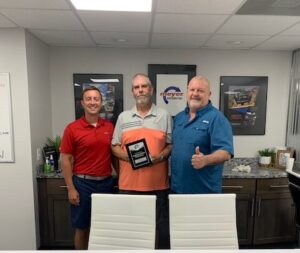 Meyer Distributing has given its 2022 First Quarter Outstanding Sales Performance Award to Senior Sales Account Manager Ray Greenlee, the company announced.
"Day-in and day-out, Ray provides and sets excellence as the standard for customer service," said Gary Filipski, Southwest regional sales manager for Meyer. "Ray stays focused on taking care of the customer which makes him a tremendous asset to our organization."
The award recognizes sales account managers that excel, day in and day out, at Meyer Distributing, the company said.
"I would like to thank Meyer for presenting me with the Outstanding Sales Performance award," said Greenlee. "I feel very honored and grateful to receive this. I have worked very hard throughout my 13-plus years with Meyer to be the best account manager I can be. I would not be where I am today without the support of my peers and entire Meyer sales team."