News
Meyer Distributing Adds PROJECT X to Line Card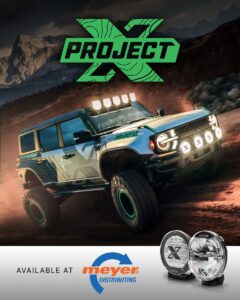 Meyer Distributing has added PROJECT X truck and off-road products to its line card, the distributor announced.
PROJECT X provides products for truck and off-road enthusiasts. Centering around its "Ghost Box" technology, the PROJECT X ecosystem offers wirelessly controlled accessories including high-power lighting, cameras and accessory management, the company said.
"We are very excited to announce our partnership with Meyer. Meyer recognizes that PROJECT X offers a unique and fresh twist to the next generation of off-road accessories. When you couple that, with a leader in automotive wholesale distribution and logistics, it's hard not to be excited with what the future holds for off-road and truck accessory shops nationwide," said Shawn Bell, sales manager for PROJECT X.
"We are excited to add the PROJECT X brand to our line card," said Luke Musselwhite, purchasing manager at Meyer Distributing. PROJECT X is a breath of fresh air with their drive to challenge the way things have historically been done. With our distribution and logistics and PROJECT X's innovative lighting and accessories, things look bright for shops across the country. We look forward to a great partnership and cannot wait to see what the future holds."