News
Meyer Distributing Adds AlphaRex to Line Card
Meyer Distributing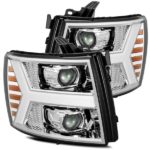 has announced the addition of AlphaRex USA to its line card and stocking inventory.
AlphaRex USA specializes in designing and manufacturing automotive aftermarket performance lighting.
AlphaRex USA's lineup includes Pro-series headlights and Nova-series headlights as well as AREX apparel and decals.
"AlphaRex has been requested by a number of dealers and we continue to react quickly to customer demands," says Meyer's Truck Accessory Sales Manager, Tyler Galloway.