News
Metra Electronics to Host Training Sessions at KnowledgeFest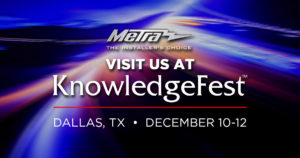 Metra Electronics is heading to Dallas, Texas to host new training sessions at KnowledgeFest and showcase its latest aftermarket installation products, the company announced.
Metra's booth will include a 2021 Chevrolet Silverado 2500 HD built by Extreme Offroad and Performance, customized with Heise LED lights and more, the company said.
Metra's training sessions will cover new products launched at the 2021 SEMA Show. This includes new Axxess integration products and DSPs, Saddle Tramp lighting and audio upgrades that fit Harley-Davidson, aftermarket accessories that fit Jeep Wrangler and Gladiator and new vehicle lighting solutions from Heise. Metra will also provide in-depth training sessions for installers at the event, hosted Dec. 10-12.
Training sessions include:
"Simplify your Install with Axxess DSPs" — Dec. 10 at 1:45 p.m. and Dec.12 at 9:30 a.m.
This training will cover the entire Axxess DSP product line, highlight new vehicle coverage and showcase the newest app features.
"New Accessories for Jeep Wrangler and Gladiator" — Dec. 10 at 3 p.m.
Installers will learn how to upgrade the look and sound system of the latest Jeep models using Metra's newest accessories designed for Jeep Wrangler JL and Gladiator JT.
"New Vehicle Lighting Trends with Heise" — Dec. 11 at 5:30 p.m.
Learn about the new and improved Heise lightbars and cube lights, projector series LED bulbs, new wheel lights, RGB and RGBW underglow kits and the third brake light designed for the new 2021 Ford Bronco.
"Advanced Integration Made Easy with Axxess and Metra" — Dec. 12 at 10:45 a.m.
This training session gives in-depth installation information for Metra's new AXPIO integration kits for Pioneer receivers, Metra's latest TurboTouch dash kits and new Axxess interfaces hitting the market.
Metra's customers can register for the KnowledgeFest event at no cost using Metra's VIP code, available by request from their sales representative. Once registered for the event, attendees will also need to register online at KnowledgeFest.org for each training session they will attend. Metra will be at booth #513 from Dec. 10-12 at the Dallas Convention Center in Dallas, Texas.