News
Metra Electronics to Host Installer Training Sessions at KnowledgeFest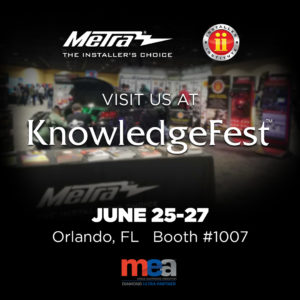 Metra Electronics is set to host six training sessions at the 2021 Mobile Electronics Association KnowledgeFest in-person event in Orlando, Florida, the company announced.
Metra will be providing in-depth training sessions for installers, which will outline aftermarket accessories for Jeep Wrangler and Gladiator and new products for upgrading vehicle safety systems. Installer Institute will also host a session to show shops how to connect with trained, certified graduates through its online career portal and explain the future of mobile electronics education.
Metra's customers can register for the KnowledgeFest event at no cost using Metra's VIP code, available by request from their sales representative. Once registered for the event, attendees will also need to register online at KnowledgeFest.org for each training session they will attend.
Click here for more information and a schedule of the training sessions.