News
McMillin, Roeseler Win Baja 1000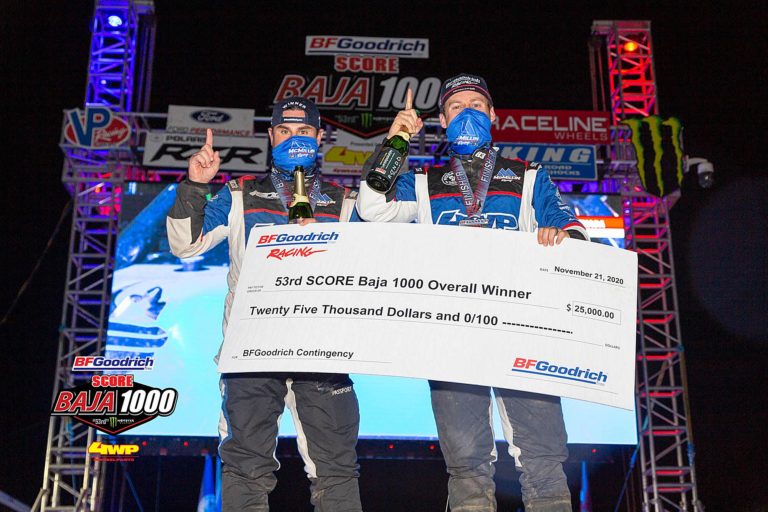 San Diego's Luke McMillin and Off-Road Motorsports Hall of Famer Larry Roeseler captured the overall and Trophy Truck victory in the SCORE International Baja 1000 over the weekend, the sanctioning body announced.
Held on an 898.40-mile loop racecourse over the Northern part of Mexico's Baja California peninsula, the race started and finished on the outskirts of Ensenada. It was the finale of the two-race pandemic-abbreviated 2020 SCORE World Desert Championship.
McMillin and Roeseler drove their No. 83 Mark Racing Racer-built Ford F-150 SCORE Trophy Truck to a penalty-free winning time of 19 hours, 10 minutes and 25 seconds with an average speed of 46.86 mph on the bone-bruising course.
Joining McMillin on the podium were four-time overall SCORE Baja 1000 winner Rob MacCachren, who has over 300 career desert, short-course and stadium race victories, took the second step on the podium, with champion racers Bryce Menzies and Andy McMillin, a five-time SCORE Baja 1000 overall champion, rounding out the top three finishers.
MacCachren and his additional driver, Josh Daniel, finished in a time of 19:21:30 in the No. 11 MacCachren Motorsports Geiser-built Ford F-150 with an average speed of 46.41mph. Menzies and McMillin finished third in the No. 7 Menzies Motorsports Mason-built Ford Raptor in a time of 19:42:40 while averaging 45.58mph.