News
Maxlider Brothers Customs to Reveal Retro Bronco Build at SEMA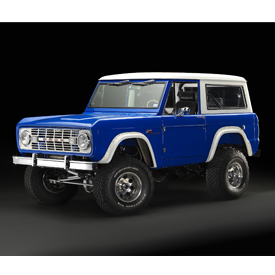 United Pacific Industries will feature a retro 1966 Ford Bronco in its SEMA Show booth (No. 23175). The customized Ford Bronco will showcase 1966 to 1977 Bronco replica body panels as well as lighting produced by the company.
"United Pacific Industries has specifically chosen Maxlider Brothers Customs to build this high-profile flagship Bronco for our company," said David Odegard, United Pacific Industries director of research and development. "Their knowledge of and passion for Ford Broncos is unmatched, so we knew they were the best people to build our SEMA booth vehicle."
After building more than 500 classic Broncos, Maxlider Brothers Customs has the experience to know what is important to Bronco enthusiasts: proportions of tire size, lift kit and bolt on parts as well as a blue color because it is the most popular color choice. The United Pacific Bronco will be painted in the company's corporate shade of blue with white accents on the fender flares and roof.
The United Pacific classic Ford Bronco will be equipped with a Ford Performance Coyote 5-liter engine and other modern conveniences including air conditioning, Bluetooth stereo, accurate electronic gauges and power running boards. Maxlider Brothers Customs has not overlooked any detail, including adjustable custom leather seats to accommodate taller drivers and passengers with ease, according to the company.
The 1966 Bronco in the United Pacific booth might look classic on the outside, but it features modern amenities necessary to make it comfortable to drive today.
United Pacific produces exact replica sheet metal for the 1966 to 1977 Ford Broncos so that enthusiasts can recreate their ideal classic Bronco, and this is the sheet metal used on the Bronco being built by Maxlider Brothers Customs. The company supplied everything necessary for the body, including the fender flares, door shells, windshield and window frames, front and rear bumpers, door jambs, tail light housing panels, rocker panels and more. United Pacific also supplied the billet aluminum tail light bezels and LED sequential tail lights for the build. In total, more than 60 products from United Pacific are used on the vehicle.