News
Matt Jones Purchases Controlling Stake in Art Morrison Enterprises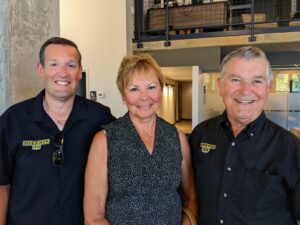 Matt Jones, who joined Art Morrison Enterprises (AME) in 2005, has purchased a controlling interest in AME, the company announced.
According to the company, Jones was hand-selected by Art Morrison to purchase the controlling interest in AME. Over his nearly 20-year tenure, Matt has worked closely with company founder Art Morrison and the late Craig Morrison in numerous instrumental roles including lead engineer, operations manager and now president, the company said.
"As we look toward the future, I am immensely humbled and honored to continue the tremendous legacy of Art and Craig Morrison by retaining our long-term employees, providing top-notch customer service, and producing the best products possible using the industry's most talented craftsmen, right here in Washington," said Jones.
"Matt has played a huge role in the success of the company and has earned the trust of our many long-term employees. It will be in good hands," said Art Morrison.
While he will be spending more time traveling and enjoying grandson Alexander with his wife, Jeanette, Morrison will still maintain a role with the company, Jones said.
"Those of you who know Art and his desire to create things will appreciate that he will retain his office here – his home away from home – and will remain a valuable consultant and mentor, but without having the burden of running the business on his shoulders," said Jones.