News
Mastercam Marks 35 Years of CNC Excellence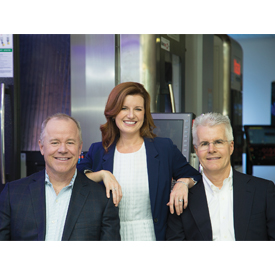 This year represents the 35th anniversary of CNC Software Inc., developers of Mastercam CAD/CAM software.
In 1983, two brothers, Mark and Jack Summers, came up with a new concept for programming CNC (Computer-Numerical-Control) machine tools. A third brother, Brian Summers, soon joined and together they developed a PC-based CAD/CAM software package that laid the foundation for what would be Mastercam, the world's most widely used CAD/CAM software.
"It started out as a simple idea," said Chairman Mark Summers. "I was a machinist. My brother was a mathematician. We combined our experience to put what was out of reach for most shops-NC programming software-right onto their desktops."
In the 35 years that followed, the brothers have advanced dozens of important new technologies for those shops, including smart toolpaths, hybrid machining, mill-turn, multiaxis, their proprietary Dynamic Motion technology, as well as basic packages for milling, turning, and wire EDM, according to the company. All of this couldn't be possible without the valuable feedback from the industry and from what's most important to CNC Software, the user base. In addition to manufacturers, the company has focused on selling and supporting Mastercam in the education sector since its inception.
They first called the software program Meghan, named after Mark Summers' eldest daughter, and then changed to Mastercam as a clearer descriptive of the software's primary function. Today, Meghan is the CEO and Mastercam is the most widely used CAD/CAM software in the world, closing in on almost a quarter million installations at the end of 2017.
"Mastercam users help drive our innovation," said CEO Meghan West. "We're in constant contact with shops, machine tool builders, educators, tooling suppliers, and they all help us focus on what shops need the most now and in the future, so we can deliver."
"One of the biggest reasons for our success is our global dealer network-"probably the largest and most experienced in the CAM industry," West said. "They are true partners with our customers, offering advice, training, and applications experience to Mastercam users around the world. We're also extremely proud to be the number one CAD/CAM program being taught by technology teachers in schools, colleges, and universities. Helping to train the next generation of skilled manufacturing personnel is an important mission of ours."