News
Mast Motorsports Acquires Magnitude Performance, Names New CEO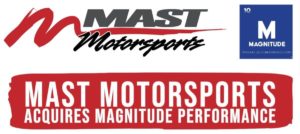 Mast Motorsports has acquired Magnitude Performance, the company announced. Jason Youd, founder of Magnitude Performance, will be named CEO of Mast Motorsports.
Youd will manage all aspects of Mast Motorsports and will support Mast Powertrain as managing director.
Magnitude Performance is a specialized product company that focuses on highly technical products and service for the motorsports and aftermarket industry. As part of Mast Technologies group, Mast Motorsports and Magnitude Performance will continue advanced development for motorsports products & technologies.
"We are extremely excited to add Magnitude Performance to our portfolio, it significantly improves our product and parts offering to our customers," said Horace Mast of Mast Motorsports. "Having Jason on board with this acquisition brings strong leadership and market experience required to grow and service our customers."