News
MANN+HUMMEL Producing Face Masks, Respirators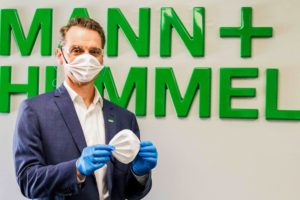 MANN+HUMMEL, a manufacturer of automotive, air and water filters and parent company of WIX Filters, has implemented a number of initiatives to support the growing battle against COVID-19, including producing face masks and respirators for healthcare workers.
"Companies are mobilizing at unbelievable speeds to assist the frontlines in their fight against COVID-19," said Charles Vaillant, chief technology/digital officer at MANN+HUMMEL. "It's incredible to see the levels of innovation, the speed at which it's happening, and most of all, the sincere belief that we can make a difference in this fight. If we can save even one life, it makes these efforts worthwhile, and I am immensely proud of MANN+HUMMEL as we embrace innovation and quickly adapt to help others."
At the company's facility in Fayetteville, North Carolina, two production lines have been converted to produce daily protective grade (non-certified) face masks with a time to market of 15 days. Initially, the product will be supplied to employees to protect those keeping the company moving forward. As production ramps up, the masks will also be sold to customers. By May 1, over 5 million face masks will be produced per month.
MANN+HUMMEL is also working on a design to provide filtration media inserts that can be used in homemade mask designs. The concept will greatly increase the effectiveness of homemade masks, featuring a thin, breathable media. The company anticipates having the media inserts available within two weeks, available through various e-commerce channels.
The company's TRI-KLEEN product gives public health officials and hospital staff the ability to turn a COVID-19 patient's room into a negative pressure environment, providing a tool to help field hospitals, temporary care units, nursing homes or ad-hoc locations to maintain safety for patients and frontline staff.
In support of a major automaker producing respirators to protect frontline health care workers, MANN+HUMMEL will urgently provide up to 5,000 filters per day for the project. The respirator is a collective effort from contributing companies, as it mainly uses off-the-shelf parts to construct a life-saving device, including a seat fan from a pickup truck, a battery from a power tool and now a HEPA filter supplied by MANN+HUMMEL