News
Managers of GForce Engineering Buy the Company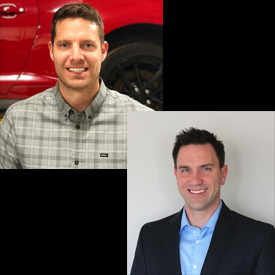 Bob Engel and Jesse Powell are the new owners of GForce Performance Engineering. Both Engel and Powell are career-long industry figures and served as managers at GForce before agreeing to purchase the company from from a private equity firm that held the company's stake for several years.
GForce Performance Engineering is a Wichita, Kansas-based company focused on driveline upgrades for performance vehicles, including independent rear suspension components.
"Obviously, we are extremely excited about the acquisition," said Powell, who serves as GForce president. "We feel by unifying management and ownership with a common vision, the company will really hit its stride and continue the growth and success we've been working toward."
Powell began his career Aeromotive Inc. as marketing and communications director. After Aeromotive, he did a brief stint with The Enthusiast Network before leaving to step in as president of GForce.
Engel began his career in the automotive industry at AutoMeter. After many years working his way up the ladder, he left to become a manufacturer's rep for Kunzman and Associates, only to eventually pursue his passion in performance tuning.
For the last two years, GForce has been under the direction of Powell and Engel and seen significant growth, according to the company.
"GForce has a unique opportunity in today's market," said Engel, who serves as vice president. "The product is extremely relevant and the manufacturing process is one that GForce has worked hard to develop. This, coupled with some of the processes and procedures we have added over the last couple of years, has produced some of best driveline parts on the market."
GForce Engineering was founded in the mid 1990s by aerospace engineer and longtime drag racer Chris Nichols. The company saw several iterations, from a local speed shop to a fabrication and machine shop.
In 2009, Nichols reimagined GForce Engineering as a true manufacturer and quickly found his place in the industry producing performance CV axles, driveshafts and driveline components, specializing in IRS and AWD performance vehicles. Nichols continues his interest in the company as lead engineer with a focus on new product development and R&D.
"Bob, Chris and I believe that in today's performance marketplace, real innovation will come from manufacturers that are led by enthusiasts with a passion for this industry," Powell said. That's why we are investing so much into new products and new procedures, with a goal to produce better products at a better price for our customers."
For more information, visit GForce1320.com or call 316-260-8433.