News
MAHLE Wheel Lift is Made for Shops with Low Ceilings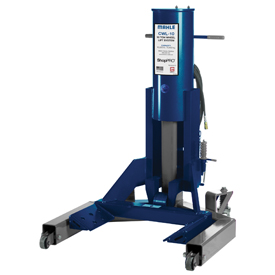 MAHLE Service Solutions has introduced the ShopPRO CWL-10; an air operated midrise 10-ton commercial wheel lift.
The wheel lift system features a positive pinning system to provide safe and clear access under one end of the vehicle, according to MAHLE Service Solutions. The CWL-10 also is ideally suited for shops with low ceiling heights and features a built-in vehicle support stand that allows complete open access under the vehicle.
The portable design of the lift eliminates the need for a dedicated bay, according to MAHLE Service Solutions. The maximum lifting height of 24 inches is perfect for major component removal.
The CWL-10 has a wide, spring loaded base to provide users with a stable platform to allow for the secure lifting of a wide array of vehicles. The unit comes with small wheel adapters. A dual trigger control valve allows for the synchronized raising and lowering of a vehicle.
MAHLE Service Solutions has partnered with Gray Manufacturing to offer ShopPRO, a full line of hydraulic and pneumatic equipment for the commercial vehicle market. The product lineup includes 12 categories: air lifts, axle jacks, component lifts, engine stands, fluid handling, forklift jacks, service jacks, shop cranes, shop presses, support stands, vehicle lifts and wheel service equipment.