News
MAHLE's New Engine Performance Brand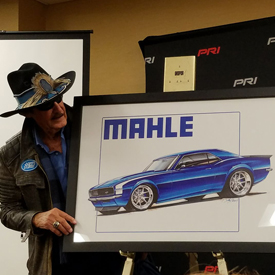 MAHLE Aftermarket Inc. on Thursday at the 2017 Performance Racing Industry Show revealed its new branding and marketing initiative with the introduction of MAHLE Performance engine parts. MAHLE Performance engine parts is being launched to more fully serve the needs of performance engine builders, racers and performance enthusiasts with improved application coverage, product quality and availability, according to the company.
MAHLE Performance will be the over-arching brand for a comprehensive line of performance engine parts beginning with MAHLE Performance gaskets, as introduced at the 2017 Automotive Aftermarket Product Expo (AAPEX) Show followed by MAHLE Performance piston rings and MAHLE Performance engine bearings. MAHLE Performance engine bearings now to include coverage for Asian and European luxury and performance vehicles. MAHLE Clevite will continue to be available for light to heavy-duty vehicles.
Leading development for the new performance gasket brand is Tod Richards, MAHLE Aftermarket's Performance Gasket and Piston Rings coordinator.
"MAHLE has had the good fortune to have longstanding relationships with top racers to help develop this line," Richards said. "We are entering the market strong with over 300 part numbers which we plan to double in size in due time. There are definitely gaps of what is being supplied currently. It is our plan to become the number one trusted source for performance gaskets that can handle the harshest environment."
The MAHLE Performance gasket line, now includes over 300 part numbers with plans to double coverage by mid-year 2018. The MAHLE Performance gasket line includes: multi-layer steel (MLS) head gaskets, steel core laminated fiber intake manifold gaskets, molded rubber valve cover, and cork/composite valve cover gaskets, molded rubber oil pan, and steel core laminate oil pan gaskets, MLS header gaskets and graphite header gaskets.
In addition to the more popular applications, MAHLE Performance will offer many of the more hard to find gaskets for early and late model AMC, Buick, Chevrolet, Chrysler, Ford, Olds and Pontiac vehicles.
"The MAHLE Performance brand launches an exciting new era and commitment to race and performance product development," said Jon Douglas, president of MAHLE Aftermarket Inc." "Our goal is for the words MAHLE and Performance to be synonymous and to make sure that engine builders, racers and enthusiasts will not have to look further than MAHLE to get the parts they need."
MAHLE Aftermarket, which works with the world's top racers and performance engine builders in Formula 1, NASCAR and NHRA, as well as series and race venues from across the globe, is in a unique position to develop a performance focused engine part line, according to the company.
Plans for the 2018 MAHLE Drive with the Original technician promotion also were revealed at the PRI show, including the rendering of the grand prize: an authentic MAHLE "Restomod" 1968 Chevy Camaro built by the team at Petty's Garage. Additional details and official rules are available at www.drivewiththeoriginal.com.
For more information on MAHLE Aftermarket Inc., visit www.mahle-aftermarket.com.