News
MAHLE to Repeat Drive with the Original Promotion with '68 Camaro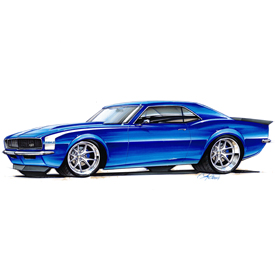 The MAHLE Drive With the Original technician promotion has been reintroduced after the company deemed the 2017 contest a success. The winner-to be named at next years' AAPEX Show-will get an authentic MAHLE resto-mod 1968 Chevy Camaro built by the team at Petty's Garage.
The latest Drive With the Original kicked off on Dec. 12, and will run through Oct. 1. Four qualifying technician finalists will randomly be selected from all entries to receive a trip for two to the AAPEX) in Las Vegas. Richard Petty will be on hand when the finalists select a key from his signature Charlie 1 Horse hat, one of which will unlock the doors to the grand prize Camaro.
The Camaro will feature an LS motor built with MAHLE components, upgraded big disc brakes and a custom Magnaflow exhaust system. The car will ride on Continental Tires with 20-inch Forgeline wheels and upgraded Petty's Garage suspension components. The distinctive look of the vehicle will be finished with a custom fabricated rear racing spoiler and front splitter.
"We are extremely excited to bring the 2018 Drive With the Original promotion to the marketplace-especially with this new resto-mod twist," said Jon Douglas, president of MAHLE Aftermarket Inc. "We are also very proud to provide many of the engine components that will be needed to build the motor that will go into the MAHLE Chevy Camaro. And of course, with all the 'extras' the Petty team brings to the table when they do one of these builds. I can't wait to see the finished car."
More than 1,000 additional instant-win prizes also will be awarded, including Richard Petty Driving Experiences, autographed Richard Petty signature Charlie 1 Horse cowboy hats, autographed No. 43 die-cast model cars, insulated tumbler mugs and baseball hats.
The promotion is open to all professional technicians in the U.S. when their shop purchases select MAHLE Original gasket sets. The MAHLE Original gasket box will include a sticker with detailed information the technician can use to enter the promotion. The promotion features an instant-win component where it reveals whether the technician has been awarded one of the prizes, according to MAHLE.
Even if the technician does not win instantly, they are still entered in the drawing for one of the four trips to Las Vegas for the grand prize drawing. The finalists will be announced on or about Oct. 5.
Complete information about the MAHLE Drive With the Original promotion, including official rules, terms and conditions, can be found at drivewiththeoriginal.com.
For more information on MAHLE Original gaskets, visit mahleoriginalgaskets.com.
Photo Caption: An artist's rendering of the 2018 MAHLE "Drive With the Original" Grand Prize – a 1968 "Resto-mod" Chevy Camaro, built by the team at Petty's Garage.