News
MAHLE Motorsport Announces NMRA/NMCA Travel Voucher Program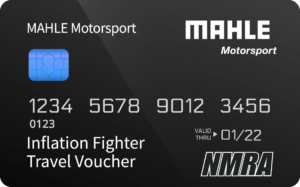 MAHLE Motorsport, in support of NMRA and NMCA racing, has created a new "Inflation-Fighting" travel voucher program to help offset the rising cost of fuel for five racers, the company announced. Five vouchers valued at $500 each will be given away over the course of the next three events. To qualify, racers must purchase tickets in advance on the FOAT website to qualify.
The first drawing for two $500 vouchers will take place at the inaugural NMRA/NMCA Power Festival held July 22-25 at US 131 Motorsports Park. One voucher will go to a competitor in the NMRA event and one in the NMCA event. The next two voucher drawings will take place at the final two NMCA events – the 20th Annual NMCA All American Nationals at Summit Motorsports Park in Norwalk, Ohio, in August and the Annual NMCA World Street Final at the Lucas Oil Raceway in Indianapolis in September. The final voucher drawing will take place at the NMRA World Finals September 27.
MAHLE Motorsport and NMRA/NMCA officials will randomly select the winners with the first drawing occurring on or before July 18 with the announcement on July 19 for the Arrington Performance NMRA/NMCA Power Festival. For the NMCA events – NMCA All American Nationals (Aug. 26-29) and NMCA World Street Finals (Sept. 23-26), drawings must be pre-entered by Aug. 22 and September 19 respectively.
Any NMRA/NMCA racer who has purchased a 4-day, 3-day, or 2-day racer ticket on the FOAT Ticketing website to the participating events mentioned above will be eligible to win the MAHLE Motorsport $500 Inflation Fighter Travel Voucher. For NMRA racers, this includes NMRA Racer Entry, True Street Racer or Bracket Open Race Entry. For NMCA racers this includes True Street Racer, COPO, Cobra Jet Racer or Bracket Open Race entry. A $500 check will be issued to the winner at the Registration Trailer at each event. The winner must be present to claim their prize.
"We value NMRA & NMCA teams and this was a way for MAHLE Motorsport to give back. This year has been difficult with the increase in fuel costs making it more challenging for teams to travel and we hope this helps the winners offset some of the travel costs with some 'tow money'," says Joe Maylish, MAHLE Motorsport sales and program manager.
Rollie Miller, general manager and national event director of the Holley NMRA Ford Nationals, adds, "We are very thankful to MAHLE Motorsport for providing bonus payments to NMRA racers as the series is wrapping up. Their generosity goes a long way and it is a nice bonus for racers purchasing advance tickets."