News
MAHLE Aftermarket Renews Partnership with RTR Motorsports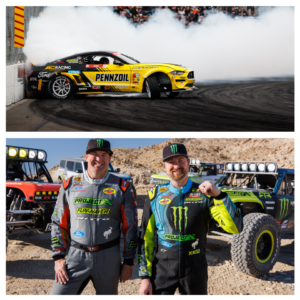 MAHLE Aftermarket has renewed its sponsorship with RTR Motorsports for the 2023 season, marking six years of collaboration, including serving as a sponsor on the organization's numerous racecar entries in the Formula Drift and Ultra4 racing series, the company announced.
As part of the partnership, RTR Motorsports team will also remain a member of the Team MAHLE engine parts test team, the company said.
"Since 2018, the MAHLE and RTR Motorsports partnership has brought great success to both parties and has helped bring awareness of the MAHLE brand to key racing and enthusiast audiences," says Jim Kahut, head of marketing at MAHLE Aftermarket North America. "We are proud to work with such an incredible team of fearless drivers and we look forward to building upon our collaborative relationship for many years to come."
RTR Motorsports is comprised of:
Vaughn Gittin Jr., World Champion Drifter, Ultra4 Champion and Professional Fun-Haver
Chelsea DeNofa, Drifter, Road Racer and Stunt Driver
Adam LZ, Drifter and YouTuber
Loren Healy, 5x Ultra4 Champion, Two-time Winner of King of the Hammers
James Deane, newly announced 3x Formula Drift Champion
The Formula Drift season kicks off on April 7, in Long Beach, California, but the team has already raced in some of the industry's most recognized competitions, including the 2023 Progressive King of the Hammers, an Ultra4 event, the team said. Of note, RTR drivers, Loren Healy and Vaughn Gittin Jr., won the 4600 class in a Ford Bronco (Car #2567). Professional Fun-Haver, Vaughn Gittin Jr., also placed 17th in the Nitto Race of Kings in a 4400 Ford Bronco (Car #25) among a field of 107 drivers who started the race.