News
MagnaFlow to Offer Exhaust for Jeep Wrangler JL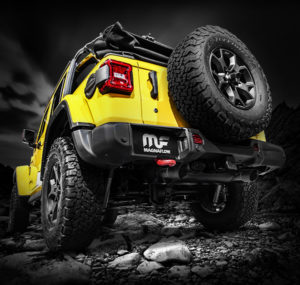 MagnaFlow's new cat-back exhaust lineup for the 2018 Jeep Wrangler JL is now available for preorder.
The Jeep JL exhaust system is available in six different configurations, including the MF Series in a polished or black finish available as an axle-back or cat-back, Off-Road Pro Series and Rock Crawler Series designed to give owners more clearance for extreme use.
Two MF Series exhausts will provide a balance of interior and exterior sound levels while providing efficient flow, one with a polished finish, the other with a satin black finish. Both MF Series exhausts have a 4-inch exit and 2.5-inch tubing.
The Off-Road Pro Series provides the most aggressive sound in a light weight package, allowing room for modified suspension, according to MagnaFlow. The Off-Road series exhaust also utilizes 2.5-inch tubing ending with a short 3-inch tip.
Finally, the Rock Crawler Series provides the best clearance and still leaves room for aftermarket bumpers, according to MagnaFlow. The Rock Crawler Series has a hidden exit just behind the bumper, also using 2.5-inch diameter tubing.
For more information, visit magnaflow.com.