News
Magna Details CES 2023 Plans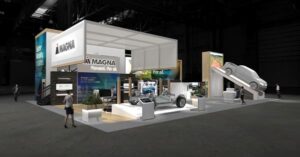 Magna has revealed details for its exhibit at CES 2023 in Las Vegas, the company announced.
At the event, the company will highlight its latest technologies in the areas of eco-innovation, driver assistance, distinction and experience, and new mobility, the company said. Magna's exhibit will be in booth #4425 at the West Hall of the Las Vegas Convention Center.
"The automotive landscape is rapidly evolving, and CES allows us to kick off the new year by asserting our prime position in making future-ready solutions a reality," said Eric Wilds, chief sales & marketing officer. "Magna has a clear vision to create a better world of mobility, and we look forward to joining our stakeholders in discussions and experiences, showcasing how Magna is leading the auto industry in redefining the movement of people and things."
One of the highlights of Magna's booth will be the first public display of the company's morphing surfaces, which will be on display with its Mezzo Plus front panel. This aerodynamic system can change the exterior shape of a vehicle and adapt to improve efficiency and functionality, Magna representatives said. The company will also be showcasing a new SmartAccess solution that eliminates the need for a b-pillar, improving accessibility to the vehicle cabin, as well as several other products, like its ICON Digital Radar, Driver Monitoring System and more.
Magna will also host the Women of Inforum@CES 2023 networking event in conjunction with Inforum, a nonprofit dedicated to accelerating the careers of women and building talent initiatives at companies, the company said. The reception will be held at the Magna booth on Jan. 6, 2023 between 4 p.m. to 6 p.m. PST.