News
MAE Delivers First BEV Test Stand to OEM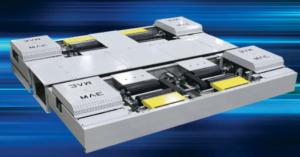 Mustang Advanced Engineering (MAE), an American manufacturer of testing equipment, dynamometers and related products, has delivered the first of three functional test stands for a major original equipment manufacturer of battery electric vehicles (BEV), the company announced.
The BEV manufacturer contacted MAE to design and build three different pieces of testing equipment: an end-of-line chassis dynamometer capable of testing electric vehicles, an electric motor test stand for pre-production development activities, and an end-of-line electric motor test stand to be integrated into the automated production line, the company said.
The system MAE delivered is a MAE-AC-4000 series chassis dynamometer equipped with MAE's PowerDyne software package tailored to meet the customer's needs, according to MAE. The MAE-AC-4000 utilizes four independent AC motors, one coupled to each set of rollers, to control the load to each wheel independently. A moveable wheelbase system allows the system to accommodate both 2WD and AWD vehicles with wheelbases ranging from 90-140 inches. An automatic vehicle restraint and safety system reduces the test cycle time and ensures that vehicles remain safely in position on the tester, the company said.
"MAE specializes in making test stands that are made to each clients' specific needs, and the three test stands we received demonstrate this expertise. There is no project that is too big or too small for MAE," said David Ganzhorn, V.P. Sales.