News
Machine Factory Open House a Hit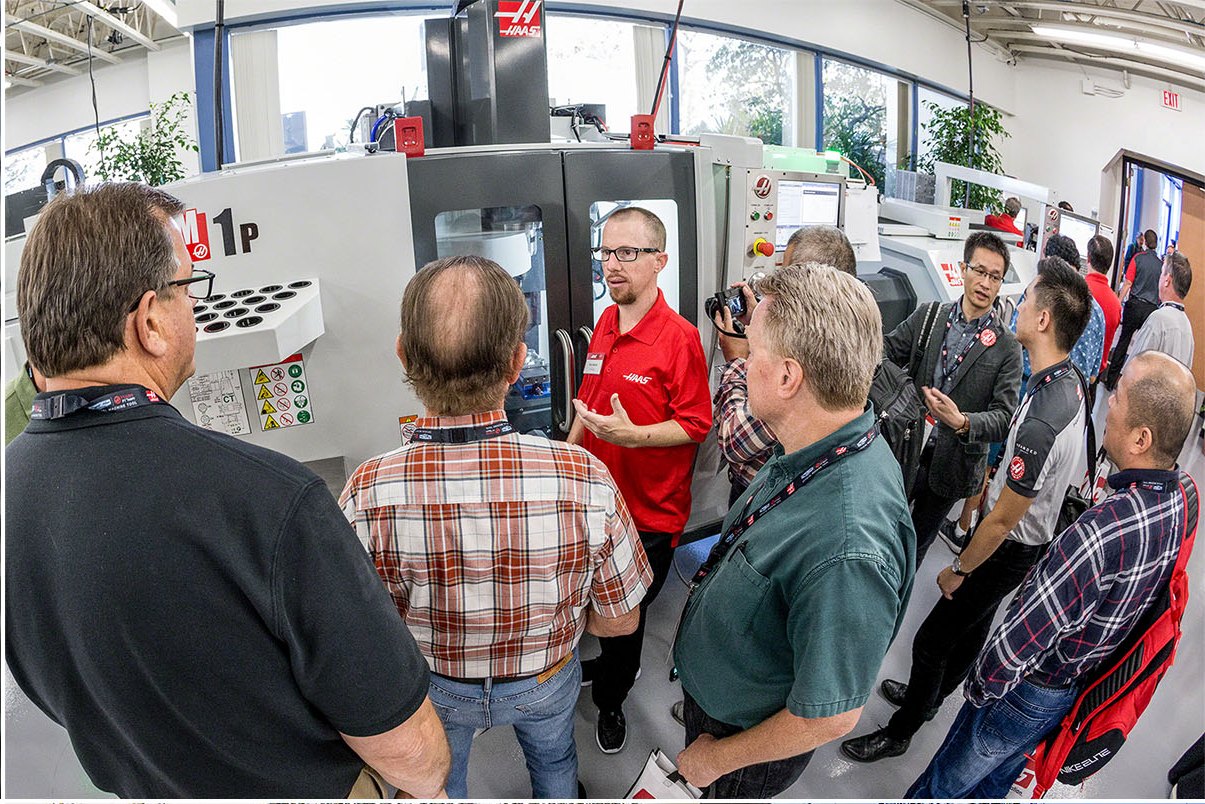 Haas Automation's recent HaasTec open house exceeded expectations, attracting more than 3,100 attendees to the company's headquarters and manufacturing facility in Oxnard, California.
The four-day event drew visitors from the U.S., Canada, and around the world, with attendees from 51 countries, including China, India, Korea, Latin America, the Middle East, and many European countries.
In addition, more than 700 students from regional high schools, colleges and universities stopped by as well.
Held Oct.10-13, HaasTec included machine demonstrations, extensive tours of Haas Automation's 1-million-square-foot facility, a catered lunch and 42 industry-partner booths, with representatives from major CAD/CAM, tooling, automation, and workholding manufacturers.
As an added bonus, attendees also saw one of the Haas F-1 team's race cars from its 2016 FIA Formula One World Championship debut, and Stewart-Haas Racing's No. 41 Haas Automation Chevrolet, driven by Kurt Busch in NASCAR.
Visitors to HaasTec often arrived in large groups, accompanied by representatives from their local Haas Factory Outlet (HFO). More than 30 HFOs worldwide arranged trips to the event to personally show customers and potential customers what goes into making a Haas machine.
There were 16 machines on display and running demos at HaasTec, including the soon-to-be released UMC-1000 Universal Machining Center, the CL-1 Compact Lathe, and the re- engineered EC-400 HMC.
Attendees also got to see more than 200 Haas machines in action on the factory floor, making parts to build more Haas machines. Of the 296 chip-making machines in the Haas factory, 211 (71 percent) are Haas machines.
A number of Haas rotary products were also on display, including the new TRT70 ultra- compact dual-axis rotary table. Providing visitors with a historical perspective was the company's very first VMC-VF-1 No. 1-fitted with an early Haas rotary table.
"We have had a booth at each HaasTec since its inception," said Tom Resler of Guhring Inc., "and I believe it's one of the best in the industry. Something that really stood out this year was the number of students that came through. Our industry is in dire need of a skilled labor force, and the outreach that Haas is putting forth is unprecedented."