News
Lumileds Offers New Philips Automotive Lighting Catalog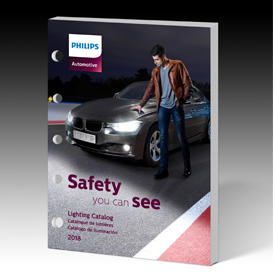 Lumileds has released a new Philips Automotive Lighting Catalog featuring the company's automotive lighting technology for applications on all types of domestic and import cars, SUVs, light trucks, and vans from model years 2000 to 2017. The catalog also features new products for 2018 as well as a global anti-counterfeiting initiative.
The new product offerings include Philips X-tremeUltinon LED Fog Lamps, which are designed to deliver up to 200-percent brighter light. Available as upgrades or replacements for H8, H11, and H16 halogen fog bulbs, these advanced LEDs color match with Xenon HID headlights, according to the company.
Lumileds also is featuring the complete line of Philips Ultinon LEDs for interior and exterior lighting applications. These next generation LEDs are offered in 6000K bright white, cool blue, intense red, and intense amber. They are designed as direct replacements for conventional incandescent bulbs.
In addition to new products, the 2018 Philips Automotive Lighting Catalog includes the Philips upgrade headlight bulb line, Philips HiPerVision exclusive OE lighting technology, and Philips MotoVision and VisionMoto for motorcycle, powersports, and scooter applications. Vehicle application listings are presented in a trilingual format.
The catalog also highlights the Philips Xenon HID Anti-Counterfeit Program, a multi-faceted effort intended to help protect customers against fake Xenon HID bulbs. Xenon HID lighting has become one of the most counterfeited products in the automotive replacement lighting market, according to the company. Philips OE replacement Xenon HID packaging now features a Philips Certificate of Authenticity with a holographic seal, label ID, security code, and QR code. Product authenticity can be checked at philips.com/original. The program also features tamper-evident seals on both the product package and shipping carton.
Find out more at philips.com/automotive or by calling 800-257-6054.