News
Lubrication Specialties President Wins Smart Business Innovation Award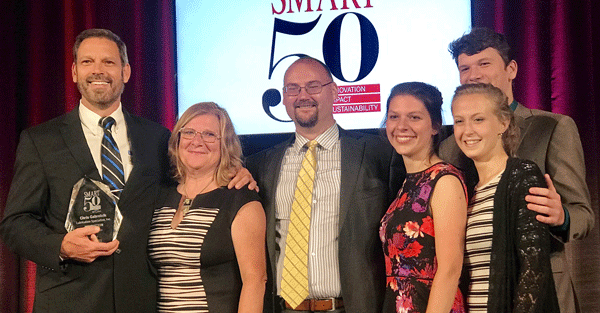 Chris Gabrelcik, founder and president of Lubrication Specialties Inc. (LSI), was recently named one of the smartest 50 executives in the Central Ohio region by Smart Business Magazine. He also received the Smart 50 Innovation Award from the magazine.
LSI manufactures performance oils, additives and lubricants for diverse markets under their Hot' Shot's Secret brand in Mt. Gilead, Ohio.
Smart Business Magazine hosted the Columbus Smart 50 Awards presented by Hylant to honor the top 50 executives leading organizations in Central Ohio. The awards were presented at a gala event at The Exchange at Bridge Park in Dublin, Ohio last month. In addition to honoring the top 50 executives, three awards were presented to recognize special achievement in Innovation, Impact and Sustainability.
"It was a true honor to stand with so many smart bright executives in Ohio last week to be honored as a Smart 50 winner," Gabrelcik said. "One of our company's core values is innovation as every product we develop is based on solving a problem significantly better than the competition. Being honored with the Smart 50 Innovation Award amongst this gathering of Ohio's top companies is humbling and a testament to decades of staying true to our core values, and to the many fine and smart people we have working at LSI."
Gabrelcik is both a certified lubrication specialist (CLS) and oil management analyst (OMA). He is a member of the Society of Tribologists and Lubrication Engineers (STLE) and Association of Diesel Specialists (ADS).
Gabrelcik started LSI in his home garage in 1997 developing lubrication solutions for industrial purposes. In 2005, LSI launched Stiction Eliminator Oil Additive to remove stiction from injectors and the fuel system to restore power and compression and reduce lifter and valve noise.
LSI manufactures more than 30 products under the Hot Shot's Secret brand for multiple markets, including automotive, heavy duty, motorsports, powersports and more to improve power, performance and reliability for gas- and diesel-powered vehicles. LSI also provides custom private label lubrication solutions.
All product development, manufacturing, packaging and distribution occurs at the LSI's headquarters located in Mt. Gilead. Additional LSI marketed brands include Frantz Filters, Fluid Recovery, GREM and Microwave Renewable Technologies.