News
Lubrication Specialties Hosts Pacemakers Dragway Park Awards Banquet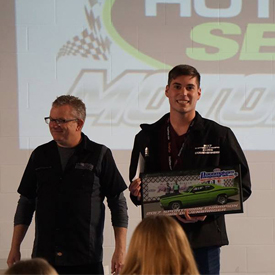 Lubrication Specialties Inc. (LSI) has announced its Support Your Local Track initiative for this season. The company manufactures the Hot Shot's Secret brand.
LSI recently hosted an annual awards banquet for its local track, Pacemakers Dragway Park. The event was co-sponsored by TrickFlow and Summit Racing Equipment at the company's headquarters in nearby Mt. Gilead, Ohio. Well over 100 racers and supportive family and friends attended the banquet to give recognition to the 2017 champions.
"We were incredibly pleased to partner with our local dragway to give added support to ensure their success in this market. This is a first to host the awards banquet at our headquarters and a definite success," said Kyle Fischer, LSI director of marketing. "Our Big Wheel Races were a hit with the kids! Congratulations to all the champions and racers that competed this year. If you are local and have never visited Pacemakers, we encourage you to bring your family and spend the day. Kids of all ages love the excitement and you will find top competitors in multiple categories that compete in series throughout the Midwest."
Hot Shot's Secret is a sponsor of all six of the dragway's Pacemakers Cash Days events.
Pacemakers is the second oldest continuously running NHRA sanctioned racetrack, dating back to 1956. In addition to traditional E.T. bracket programs, the dragway also hosts test and tune Grudge Gamblers races, high school events, Junior Dragster, Q32 events, as well as its street grudge, no time type events.