News
Lubrication Specialties Fills Management Positions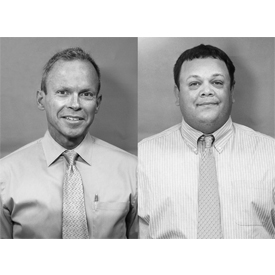 Lubrication Specialties Inc. (LSI) has filled two key management positions. The company manufactures lubricants, as well as fuel and oil additives for the automotive aftermarket, branded under Hot Shot's Secret.
Robert "Bob" Miller recently was hired by the company as director of sales to work with developing distribution of Hot Shot's Secret sales through the company's network of manufacturer representatives.
Meanwhile, Kyle Fischer was hired to serve as LSI's new director of marketing.
"This year LSI is celebrating our 20th anniversary and with this milestone we also have experienced incredible growth, especially in the automotive aftermarket," said LSI President, Chris Gabrelcik. "In the search to fill these two key positions that is focused on non-industrial markets such as automotive and motorsports, we looked for candidates that were self-motivated with a proven track record of success, a quick study, and demonstrated a creative approach to problem solving. Kyle and Bob's transition to LSI has been seamless. We welcome both to the LSI team and look forward to their contribution."
Bob Miller
Miller will work directly with the Lubrication Specialties' numerous retail accounts to introduce new products, promotions and training.
Miller is a seasoned sales manager who has worked with top radio and TV stations throughout major Ohio markets, according to the comapny. Prior to accepting his position at LSI, he served as the national sales manager for WVNO/WRGM radio and WOHZ/WMFD TV in Mansfield, Ohio.
Kyle Fischer
Fischer has close to 20 years of experience in marketing, sales and management positions. A self-professed gear head with a passion for anything car-related, he spends his free time drag racing and attending car club events.
Fischer's experience includes serving as the field marketing manager for Owens Corning in Ohio and in Chicago. Fischer managed a staff of over 40 field promoters, supervisors and managers, exceeding goals for revenue and new prospect development, according to the company.
Prior to joining LSI, Fischer served as the regional marketing manager for Trident Marketing where he oversaw lead generation, trade shows and business development partnership programs while effectively growing his territory to be the top market for sales and revenue.
For more information about Lubrication Specialties Inc. visit LubricationSpecialties.com, hotshotsecret.com or call 800-341-6516.