News
'Lowrider' and Quaker State Team Up to Build Custom 1968 Chevrolet Impala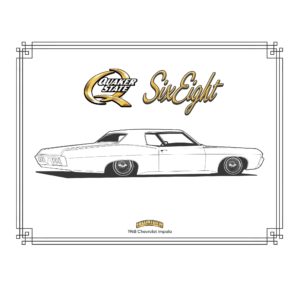 Lowrider and Quaker State have announced plans to build a custom 1968 Chevrolet Impala, with intentions to auction the vehicle to support a charity. Lowrider and Quaker State will work together to resurrect the more than 50-year-old car into a fun-to-cruise, eye-catching ride. The restored lowrider will be unveiled at the 2019 SEMA Show in Las Vegas, Nevada at the Shell "Pioneering Performance" experience on Tuesday, Nov. 5 at 12:30 p.m. PST, before being auctioned off for charity in 2020.
"Working with Quaker State on this build provides us a great opportunity to give back," said Joe Ray, Lowrider editor-in-chief. "With a community that is often misrepresented, it is important to us to raise awareness and make our Impala unique in the same way our community members are. Coming from all walks of life, Lowrider and Quaker State know how tight-knit the lowrider community is, and we love to support them every chance we get."
Throughout the next few weeks, the vehicle will go through several customizations, with upgrades such as a new paint job, revitalized interior, new wheels, tires and sound system.
"We can't wait to get to work with Lowrider and create such a special build," said Jaclyn Chastain, Quaker State marketing manager. "We are honored to have the opportunity to work with Lowrider on this new project. Raising money for charity and raising awareness of the lowrider community together, makes this car build mean so much more to everyone involved. We can't wait to debut the car on a national stage, providing Lowrider the opportunity to put the spotlight on their unique community."