News
Lokar Performance Products Acquiring Lecarra Steering Wheels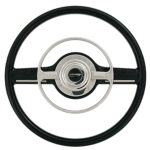 Lokar Performance Products confirmed to On All Cylinders that the company will acquire Lecarra Steering Wheels this week at the SEMA Show.
Officials from the performance products manufacturer told the blog that the acquisition is not yet finalized but the steering wheels are already being marketed as Lokar products.
Read more about the acquisition here.