News
Lloyd Mats Offers Period-Correct Corvette Logos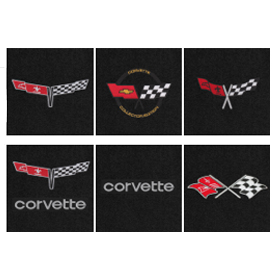 Lloyd Mats has released 14 C1, C2 and C3 Corvette logos.
The new officially licensed GM logos are model year specific for 1953-1982 Corvettes, and can be applied to all of Lloyd Mats' carpet floor models, according to the company.
Throughout seven generations, the Corvette's iconic logo and flag emblem changed multiple times, with some iterations in use for as little as one model year. Now with Lloyd Mats' 14 newly updated licensed logos for C1, C2 and C3 Corvettes, owners of these iconic sports cars can protect and dress up their interiors with proper matching emblems.
The new Corvette C1, C2 and C3 logos can be ordered on Lloyd's Luxe, Ultimat, Berber 2, Velourtex and Classic Loop custom-fit carpet mat models. The GM Official Licensed logos include both the crossed flag and Corvette letter logos for the 1953 to 62 C1, the 1963 to '67 C2 and 1968 to 1982 C3 Corvettes, as well as the 1982 Collector's Edition.
Lloyd Mats' C1, C2 and C3 Corvette logos are available through Lloyd Mats directly or any major Lloyd Mats distributor. Like all Lloyd Mats, buyers can fully customize their Corvette mats with a choice of available logos and emblems and carpet and binding colors. All are fully compatible with all factory anchor points and fasteners to keep mats secure, according to the company.
For more information, visit lloydmats.com.