News
Line-X Teams Up with Jesse James and Kenny Pfitzer for 2019 SEMA Show Builds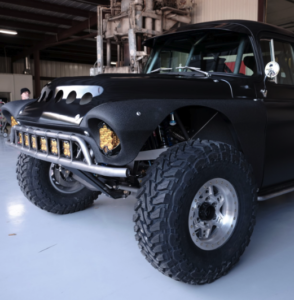 Line-X, manufacturer of protective coatings and truck accessories, will be showcasing two Line-X-coated, off-road vehicles– a Jesse James-designed and built Baja vintage race truck titled the '1957 Chevy Cameo,' and a fully transformed Jeep Gladiator designed and built by Kenny Pfitzer of Zero to 60 Designs a the 2019 SEMA Show. Both vehicles are completely coated in Line-X coatings with other Line-X products incorporated throughout the builds.
The 'Line-X Jeep Gladiator' also features many fabricated prototype Truck Gear by LINE-X accessories throughout the build which include bumpers, side steps, half doors and roof rack.
"For this year's show, we really wanted to celebrate Line-X's 26 years of support to the off-road community by featuring two unbelievable trucks built by two incredibly talented builders, Jesse James and Kenny Pfitzer," said Dennis Weese, president of Line-X. "The 1957 Chevy Cameo and LINE-X Jeep Gladiator show how our coatings provide top-quality protection from chips, scratches and abrasions when navigating thick wooded trails or a harsh desert Baja course. We are also very proud to unveil the latest product designs for the Truck Gear by LINE-X accessory lineup. These prototypes were built for the LINE-X Jeep Gladiator and mark the next step in the expansion of LINE-X products and services available across the country."
The 2019 SEMA Show runs from Nov. 5-8 and the vehicles can be seen in the Line-X Booth #31095 in the South Hall Upper at the Las Vegas Convention Center. Additionally, three autograph sessions will be held during the show with James, Pfitzer and NHRA Funny Car driver Bob Tasca.
Tuesday 10 – 11:30 a.m.: Jesse James, Kenny Pfitzer
Wednesday 1-3 p.m.: Jesse James, Kenny Pfitzer and Bob Tasca
Thursday 10 a.m. to 12 p.m.: Jesse James, Kenny Pfitzer