News
Lincoln Electric Opens New Welding Technology & Training Center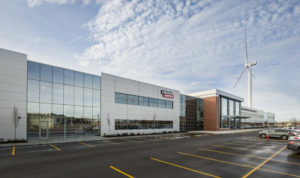 Lincoln Electric Holdings Inc. held an open house and ribbon cutting ceremony earlier today to celebrate the grand opening of its new Welding Technology & Training Center in Cleveland. According to the company, the event highlights Lincoln's expanded educational offering and commemorates the centennial anniversary of its welding school.
The welding center focuses on training welding educators, engineers and industrial professionals who are advancing welding in schools and industries globally. Additionally, the center provides technical welding training for professionals and turnkey educational solutions that can be used to launch welding training at customers' own facilities. Lincoln's education portfolio includes an educational curriculum, virtual reality and technology-assisted training tools, welding and cutting solutions, and robotic cells, according to the company.
"Our new center is a strategic investment to help our customers and educational partners grow using leading solutions," said Christopher L. Mapes, chairman, president and CEO of Lincoln Electric. "Our educational offering and leadership in automation solutions provide meaningful solutions to address the skills gap and capacity constraints facing customers in our industry."
"We are committed to providing students and customers with the relevant skills and knowledge needed to support career and technical schools, advanced manufacturing and infrastructure growth," said Jason Scales, business manager of education at Lincoln Electric. "Our education model will shape the next generation of welders, managers and industry leaders."
Located on the company's headquarters campus in Cleveland, the new 130,000-square-foot facility represents a $30 million investment in training for a new generation of welding leaders and educators. The center features 166 welding and cutting booths, a virtual reality training lab with 10 VRTEX virtual reality welding simulators, seminar and welding school classroom space, and a 100-seat auditorium to advance technical skills. According to the company, the center will also become an American Welding Society accredited testing facility later this year.
For more information, visit Lincoln Electric's Education Solutions website.