News
Legendary Customizer to be Laid to Rest Friday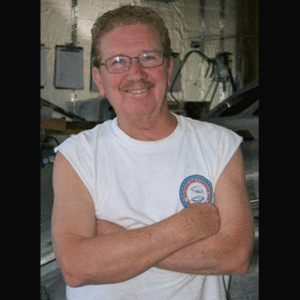 Gary Calvin Howard, 76, of Weir, Texas, passed away on Tuesday with his family present. The much-loved husband, father, grandfather, great-grandfather, uncle, son, brother, and car customizer was born Aug. 4, 1942, in Modale, Iowa, and resided in Weir, Texas for the past 32 years, having moved from Glenwood, Iowa. Weir is located about 38-miles north of Austin, Texas.
Howard's love of cars started as a kid. He "got into this whole thing by watching my dad mess around with old cars," a '51 Mercury coupe with dual exhausts. For an eighth-grade art project, he meticulously drew his favorite cars and the first car he took his driver's license test in still has the teenage pinstripe job he painted on the valve covers. According to Howard, "cars were about the only thing I've ever done since high school. I did customs for fun, for myself really."
Howard and his brother, Dale, worked together at Mel's Body Shop in Glenwood. He then opened his own body shop in town, starting a custom car career that would make his name well known among industry circles.
Howard moved to Texas in 1985-this is when Gary Howard Customs was born. He made his name by producing custom rod after custom rod sometimes for famous clientele, including several rides crafted for American blues rock guitarist Jimmie Vaughan.
Howard received numerous awards for his work, including twice receiving the Harry Bradley Design Achievement Award. He was inducted into the Kustom Kemps of America Hall of Fame. Howard is also one of the founders of the Kontinentals car club in Austin.
Although Howard's car accolades are recognized across the country, it was his kindness, compassion, thankfulness and humility that made him the great man he was and he always had a smile, according to family and friends.
Howard and his wife of 15 years, Jo Ann, shared a love for cars and NASCAR, and traveled to many car shows across the country, making lifelong friends along the way. They also doted on their 12-year-old poodle, Rusty.
Survivors include Howard's wife, Jo Ann; daughters, Nanette Bornhoft (Kent), Lee Folderman (Will), Michele Elkins (Todd), Melissa Brown (Dan), Mitzi Hutchens (Jason); sons, Scott Howard, Clint Hockabout; brothers, Dale Howard (Shirley), Paul Howard; Nephews-Lynn Howard (Mary), Clint Howard (Rebecca), Brian Malone (Shannon); and niece, Connie Fisher. Gary also had 15 grandchildren and 6 great-grandchildren.
Howard was preceded in death by his parents, Harley and Ila Howard; and sisters,Virginia Lucille Howard and Arlene Malone.
Services for Howard will be held at 2 p.m. on Friday at The Gabriels Funeral Chapel and Crematory in Georgetown, Texas. Graveside service will follow at the Weir Cemetery in Weir, Texas. The family will receive friends at The First Baptist Church of Weir following the graveside service.
*Stay tuned to THE SHOP eNewsletter for more on the life and stylings of Gary Howard