News
Legal Drag Racing Comes to Detroit for a Day in August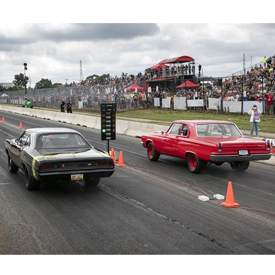 Roadkill Nights Powered by Dodge organizers promise the event will be even bigger when it opens on Aug. 11. The event held at the M1 Concourse in Pontiac, Michigan will feature more thrill ride experiences in the 707-horsepower Dodge Challenger and Charger SRT Hellcat models, additional celebrity showdown races, and its largest purse ever at $40,000.
Roadkill Nights features two drag racing classes: Big Tire and Small Tire. The $40,000 purse will include $10,000 awarded to the celebrity showdown race winner's charity of choice. Both drag racing classes will have the same payout structure with $15,000 as the total purse per class:
Winner – $5,000
Runner Up – $1,500
Semi Finalists – $750 (two payouts)
Quarter Finalists – $500 (four payouts)
Fastest Dodge-powered vehicle – $5,000
"Last year, more than 40,000 enthusiasts celebrated performance car culture at 'Roadkill Nights Powered by Dodge' in an epic kick off to a week of cruising events," said Steve Beahm, head of passenger car brands for FCA North America. "With drag racing, thrill rides and music, Roadkill Nights gets people on to a track run by professionals, so they can really show how their hot rods perform in a more controlled environment."
Doubling the Dodge Thrill Ride experiences, the 707-horsepower Dodge Charger and Dodge Challenger SRT Hellcat models will be in two locations within the M1 Concourse this year. Drifting will be back shredding tires on the M1 Concourse skid pad. The other location will again be on the north loop of the M1 track.
The drag racing will include a celebrity showdown with Motor Trend's Roadkill co-hosts David Freiburger and Mike Finnegan. Chris Jacobs of Velocity's Barrett-Jackson Live will emcee the activities, while Brian Lohnes of Motor Trend's Put Up or Shut Up will emcee the drag races. Additional industry celebrity attendees include Richard Rawlings of Discovery's Fast n' Loud Steve Magnante of Velocity's Barrett-Jackson Live, Cristy Lee of Barrett-Jackson Live and All Girls Garage, and Bill Goldberg and Matt D'Andria from the automotive podcast CarCast with Adam Carolla.
There also will be more celebrities participating in showdown races and the addition of freestyle motocross exhibitions. Leah Pritchett in her Dodge/Mopar Top Fuel Dragster and Matt Hagan in his Dodge Charger Funny Car will once again light 'em up on Woodard Avenue, according to organizers.
The event also will include virtual head-to-head racing in Dodge Challenger SRT Demon simulators; show 'n' shine; dyno testing; Roadkill stunts; flamethrower and wheelstander exhibitions; family friendly kidszone activities; and an array of food truck offerings.
Gates are open for Roadkill Nights Powered by Dodge from 10 a.m. to 11 p.m., with Dodge Thrill Rides taking place from 10 a.m. to 10 p.m., and drag racing from 11 a.m. to 10 p.m.